Burgers With Caramelized Onions, Jalapeño Relish And Red Pepper Mayonnaise Recipe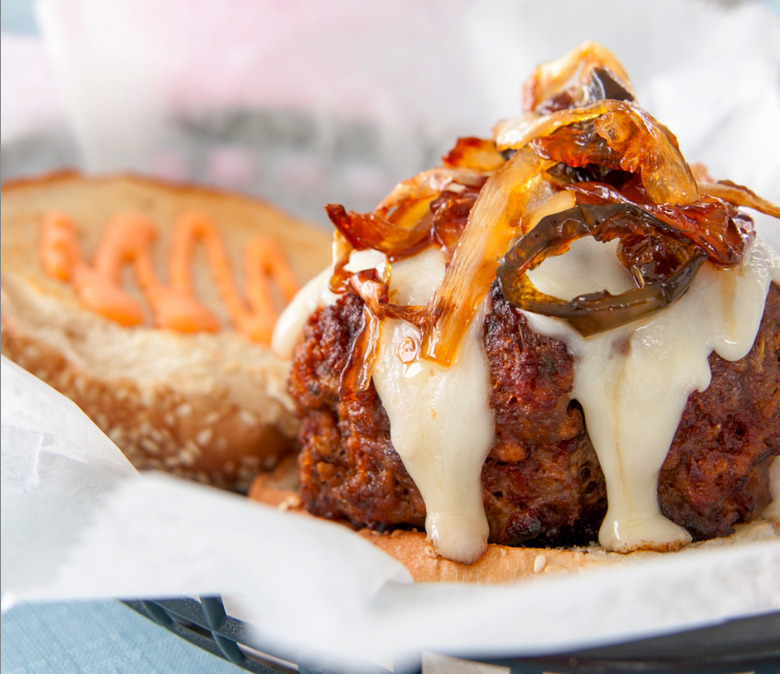 We may receive a commission on purchases made from links.
If you're going to eat light, make sure it packs tons of flavor so you don't get to the end of your meal wearing a sad face. Miami-based chef and TV personality Ingrid Hoffman's Latin D'Lite is full of recipes with bold vibrant flavors that won't weigh you down. Even burgers...
If I'm going to eat a burger, it had better be worth it. So I decided to give the all-American classic an update by adding a bit of spicy chorizo and topping it with my zesty caramelized onion and jalapeño relish and a red pepper mayonnaise. When I'm asked what I'd eat for my last meal, this burger would definitely be on the menu.
Burgers With Caramelized Onions, Jalapeño Relish And Red Pepper Mayonnaise Recipe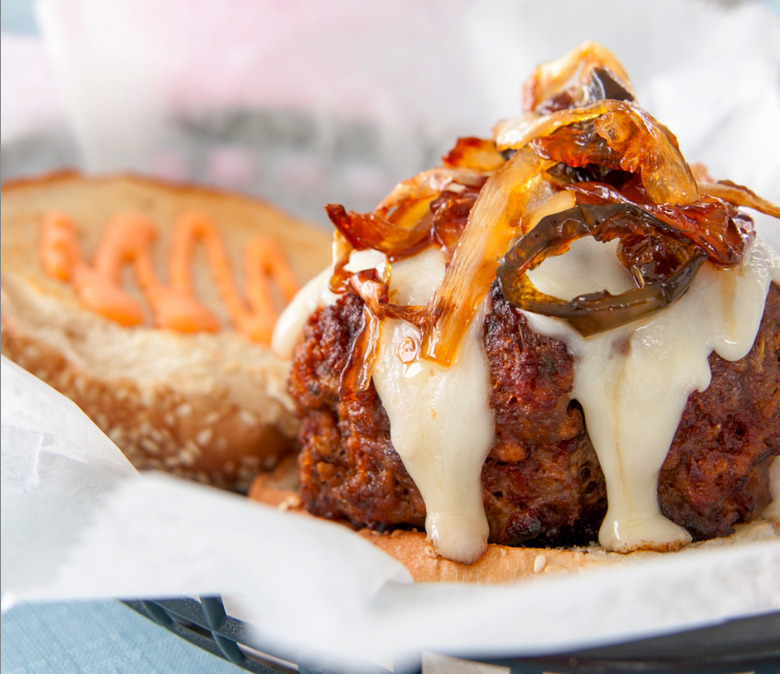 Ingredients
2 tablespoons canola oil
6 slices Oaxaca or mozzarella cheese
6 whole-grain hamburger rolls
3/4 pound ground sirloin
3/4 pound ground chuck
1/2 pound raw Mexican chorizo
1 large yellow onion
1/2 cup dried breadcrumbs
1 tablespoon adobo seasoning
2 medium jarred roasted red bell peppers
3/4 cup mayonnaise
kosher salt
freshly ground black pepper
2 tablespoons olive oil
2 large yellow onions
kosher salt
freshly ground black pepper
1/2 cup bottled jalapeño chile slices
1/2 cup packed dark brown sugar
Directions
To make the red pepper mayonnaise, purée the red peppers in a blender or food processor. Add the mayonnaise and process until smooth. Season with salt and pepper. Transfer to a bowl, cover and refrigerate for at least 4 hours or preferably overnight.
To prepare the burgers, thoroughly mix the ground sirloin, ground chuck, chorizo, onion, bread crumbs and adobo seasoning in a large bowl by hand. Form the burgers into 6 patties without pressing them too much, or they can become tough. Line a baking pan with waxed paper and put the burgers side by side in a single layer. Cover and refrigerate for at least 30 minutes. This will help the burgers hold together.
To make the relish, heat the oil in a heavy skillet over medium-low heat. Add the onion and season with salt and pepper. Add the jalapeños and the brown sugar. Cook, stirring occasionally, until the onion and jalapeños are caramelized and tender, about 15 minutes. Transfer to a bowl and let cool.
To cook the burgers, preheat an outdoor grill to medium heat. Brush the grill grates clean. Lightly oil the grate. Place the burgers on the grate and cover with the grill lid. Cook, flipping the burgers every 5 minutes, until they are medium well and feel firm when pressed on top with a finger, 15 to 20 minutes (due to the raw chorizo, do not cook for less time. Or heat a grill pan over medium-high heat.)
Add the burgers and cover. Cook, lowering the heat as needed and flipping the burgers every 5 minutes, until medium well, 15 to 20 minutes. During the last few minutes, top each burger with a cheese slice. Remove from the grill.
For each burger, spread about 2 tablespoons of the mayonnaise inside a roll. Add a burger and top with a couple of spoonfuls of the relish. Serve hot.
Beefburger Bagel With Crispy Fried Onions And Avocado Recipe
Bacon Cheddar Burger Recipe
Perfect Juicy All-Beef Burger Recipe