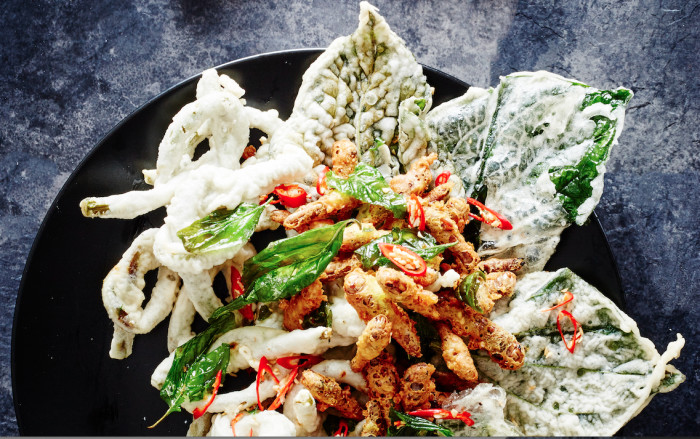 Insects are the trendy, sustainable way to get your protein. We'd say "new," but we're way behind on the bugs-for-protein trail, and it's time to catch up! Hone your entomophagy skills with Shami Radia and Neil Whippey, cofounders of Grub — a company that sells high-quality bugs ready to be used in cooking or eaten alone — and leave your Fear Factor–rooted apprehension at the door. 

People call grasshoppers the prawns of the sky! This is a play on that idea, and it's become one of the most popular dishes at Grub's pop-up restaurants. As well as being slightly shrimpy, grasshoppers have a gorgeous nutty flavor, and this lightly curried tempura batter draws it out beautifully. Garnish with thinly sliced long red chilies and dip in sweet chili sauce as a starter.
Ingredients
20

grasshoppers, legs and wings removed

A few

splashes of

light soy sauce
Tempura batter
Scant 2/3

cup

white rice flour

2

teaspoons

mild curry powder

A pinch

salt

2/3

cup

icy cold beer (freeze for 30 minutes before using)

1

egg, beaten

4

cups

vegetable oil, for deep-frying
Garnish
Long, thin red chilies, chopped

A few

deep-fried Thai basil leaves
Directions
For the tempura
First, dry-roast the grasshoppers. Preheat the oven to 180°C/350°F/gas mark 4. Coat the grasshoppers in the soy sauce, then put them in a baking dish, cover with foil and roast in the hot oven for 25-30 minutes. Uncover for the last 5 minutes to make the grasshoppers dry and crispy. Allow to cool.

Next, make the tempura batter. Sift the rice flour and curry powder together, then add the salt. In another bowl, beat the cold beer and egg together until smooth and pale (the idea is to beat the bubbles out of the beer). Once smooth, add this wet mixture to the dry mixture and whisk together. Take care when whisking, as you don't want to overwork the gluten in the flour. When mixed to a smooth batter, it's ready. (A few small lumps are fine.)

Meanwhile, heat the oil for deep-frying in a deep saucepan to about 170°C/338°F, or until a cube of bread browns in 30 seconds. Coat the roasted grasshoppers, one by one, in the rice flour mixture, and then, using chopsticks or tongs, dip them into the batter. Carefully drop them into the hot oil and deep-fry for about 20 seconds on each side until golden brown. Remove with a slotted spoon and drain on kitchen paper. The key to a good tempura is the cold beer batter plunging into the hot oil. The temperature change causes air bubbles in the batter to create more of a crunch when eaten.

Serve immediately, garnished with a few chopped chilies and deep-fried basil leaves, with sweet chili sauce on the side if you like.