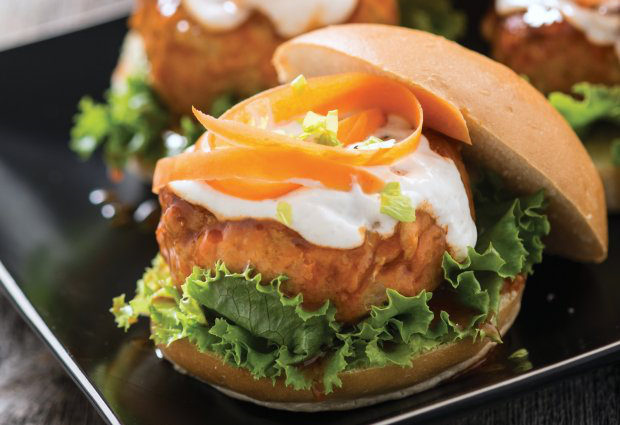 While we're not exactly taking bikini season very seriously (more General Tso fried chicken!) there does come a point where it's time to lighten up. Thankfully, cookbook author Marlene Koch has you covered with Eat What You Love Everyday, a hack-tastic cookbook full of ways to slash the fat. Instead of dredged, fried wings dripping in butter sauce (mmmm), spring for homemade Buffalo chicken burgers.
If you are a Buffalo chicken lover, you're sure to love these Buffalo burgers with a Ranch-style spread. To make your own ground chicken breast, simply cube one pound of boneless, skinless breast meat, place in the freezer for 30 minutes, and pop it into the food processor until coarsely ground. A crumble of blue cheese, sliced tomato, and red onion are also great toppers for this crazy-good burger.
Ingredients
3

tablespoons

light mayonnaise

3

tablespoons

plain nonfat Greek yogurt

3/4

teaspoon

onion powder, divided

1/2

teaspoon

garlic salt, divided

1/4

teaspoon

black pepper, divided

1

pound

ground chicken breast

3

tablespoons

dry breadcrumbs

1

large

egg white

3

tablespoons

hot wing sauce (like Frank's Buffalo Wing sauce)

2

teaspoons

butter

4

wheat hamburger buns

4

green leaf lettuce leaves

1/4

cup

carrot, finely grated
Directions
In a small bowl, whisk together the mayonnaise, yogurt, 1/4 teaspoon each of onion powder and garlic salt and 1/8 teaspoon black pepper. Set aside.
In a large bowl, combine the chicken, breadcrumbs, egg white, 1/2 teaspoon onion powder, 1/4 teaspoon garlic salt and 1/8 teaspoon black pepper. Do not overmix.
Divide mixture into four portions and flatten to form patties.
Spray a large, nonstick skillet with cooking spray, and place over medium-high heat.
Add the patties to the pan, and cook for 4 to 5 minutes on each side, or until almost cooked through.
Add hot sauce, butter and 2 tablespoons of water to the skillet and stir (around burgers) to combine.
Cover the pan, and cook over medium heat for 2 minutes.
Uncover, flip the burgers and cook until burgers are glazed with sauce.
Warm buns, place a lettuce leaf on bottom of each half, add a burger, top with 1 1/2 tablespoons of spread and garnish with grated carrot.
Cover and enjoy!
Find more burgers on Food Republic: