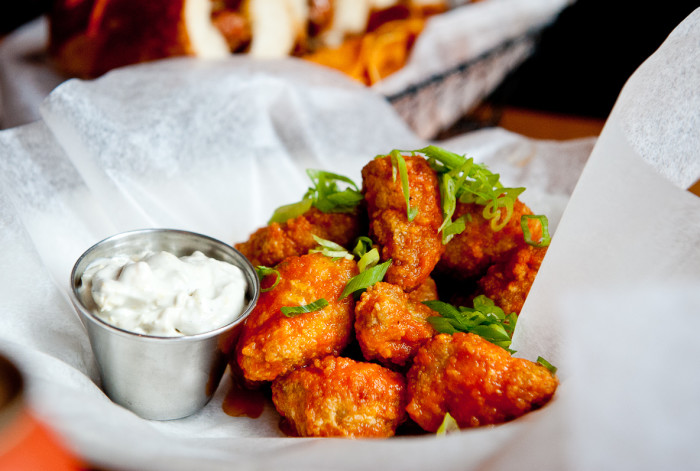 This recipe from the Upper West Side "coast" Ditch Plains chef/owner Marc Murphy proves that surfer dudes have great taste. Always wanted to try offal but never had the…uh, guts? Buffalo sweetbreads are a great way to break in.
Calf thymus or chicken wing, the buffalo technique is exactly the same: dredge, deep-fry, cool, drain and toss with buttery hot sauce. The only difference is that you won't find sweetbreads by the family pack in the refrigerated meat aisle.
Sweetbreads can be hard to find, but they're totally worth it — they're tender, creamy, succulent and incredibly flavorful. Call a specialty butcher or meat market ahead of time to see if they have them. If not, they'll easily be able to order them for you and you'll make a new friend or two in the process. Very convenient for sourcing the more obscure parts of animals.
Ingredients
For the citrus blue cheese
1/4

cup

blue cheese

1/4

cup

sour cream

3

tablespoons

heavy cream

zest of one

Orange

zest of one

lemon
For the sweetbreads
1

cup

all-purpose flour

1

cup

cornstarch

1

tablespoon

smoked paprika

1

cup

Frank's hot sauce

1/4

cup

butter, chilled

3

scallions, thinly sliced on a bias
Directions
For the citrus blue cheese:
In a mixing bowl, combine the blue cheese, heavy cream and sour cream.
Mix until incorporated and season with salt, pepper and the zest of one orange and one lemon.
For the sweetbreads:
Clean the sweetbreads of any visible membrane using your fingers and a sharp knife.
Drop them in lightly boiling water for about a minute, remove and transfer to a bowl of ice water until cool.
Cut sweetbreads into 2-inch pieces.
Mix flour, cornstarch, salt, pepper and paprika together. Dredge the sweetbreads in the flour and shake off excess.
Fry in a 350-degree fryer until golden brown and drain on paper towels.
In a small saucepan, heat the hot sauce until it starts to bubble, then take off heat and whisk in cold butter.
Place sweetbreads in pan and coat with buffalo sauce.
Garnish with thinly sliced scallions, and serve with citrus blue cheese dressing