Buffalo Balsamic Maple Chicken Fingers Recipe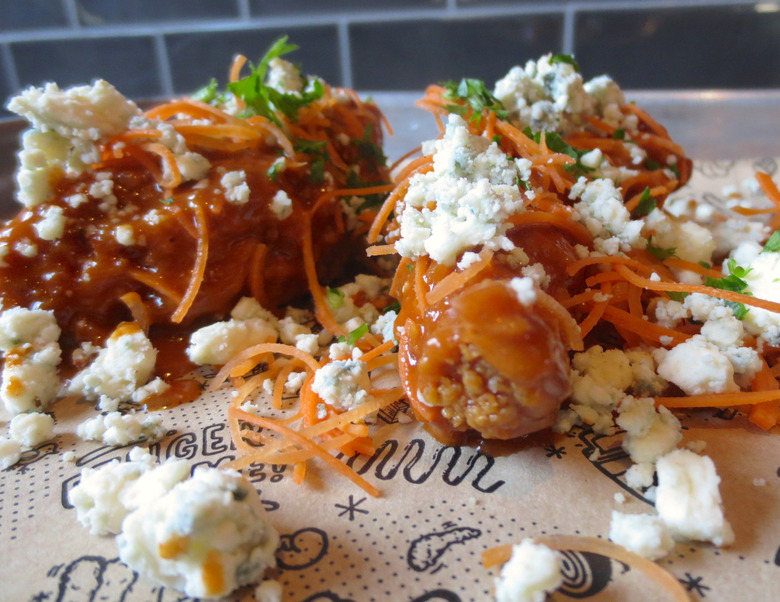 Sticky's Finger Joint is a NYC restaurant that specializes in – you guessed it – chicken fingers. The fast-casual spot recently opened a second location in Murray Hill (the original is in Greenwich Village) to dish out creative takes on the classic American comfort food. While there are more than 30 sauce options, we're particularly into the buffalo balsamic.
We have a special homemade buffalo sauce that we cut with aged balsamic and maple syrup. We use aged balsamic and maple syrup because it tempers the spice of the sauce by the tartness of the aged balsamic and the sweetness of the maple syrup. It also creates a beautiful dark maroon red coloring. This is by far our biggest seller in store. It is a winning combination of tart, spicy and sweet. Sticky's signature homemade buffalo sauce is sophisticated, approachable and delicious. – co-founder Paul Abrahamian.
Also see: Sticky's Finger Joint's French Onion Crema Chicken Fingers Recipe
Buffalo Balsamic Maple Chicken Fingers Recipe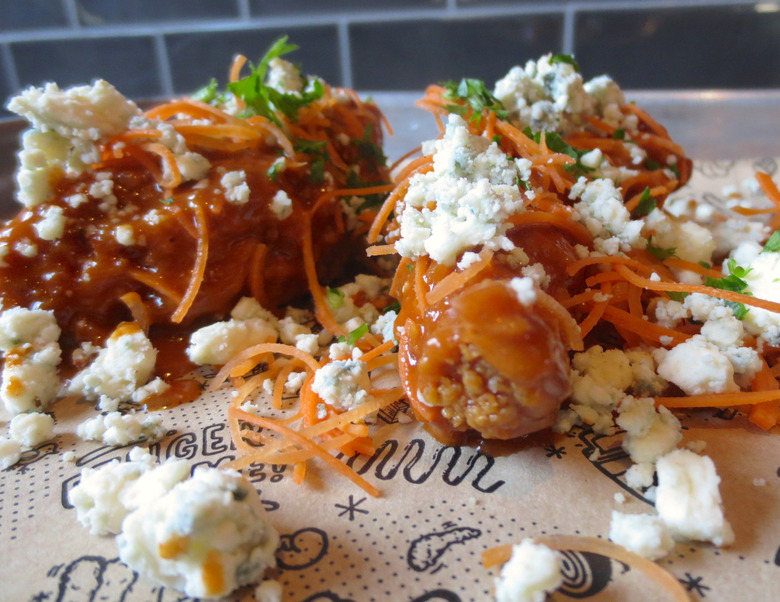 Ingredients
1 pound boneless chicken breast
2 cups buttermilk
1/4 cup fresh pureed blended fruit of your choice (frozen works very well)
fresh sprig of thyme
1 teaspoon Cajun seasoning
1/2 teaspoon freshly ground black pepper
1 cup all purpose flour
2 large eggs
2 cups panko
1 teaspoon kosher salt
1/2 teaspoon freshly ground black pepper
4 cups Buffalo sauce (pre-made)
1/2 cup aged balsamic vinegar
1/2 cup pure maple syrup (grade A or grade B)
carrots
blue cheese
Directions
Combine all the marinade ingredients and marinate the chicken overnight.
Combine the panko, salt and pepper in a bowl.
Place the flour in another bowl and the eggs in a separate bowl.
Take the chicken out of the marinade and pat dry with paper towels.
Coat the chicken in flour, then in the egg and finish with the panko breading.
Let coated fingers sit in the fridge for 10 minutes.
Next, heat enough oil to semi-cover the surface of a pan on a medium-high flame.
When the oil is hot, cook the fingers for 4-5 minutes on each side, depending on thickness.
Mix glaze ingredients together and coat chicken fingers with the sauce.
Top with shredded carrots and crumbled blue cheese.
Dale Talde's Spicy Chicken Nuggets Recipe
How To Cook A Juicy Chicken Breast
How To Make Chicken Tenders