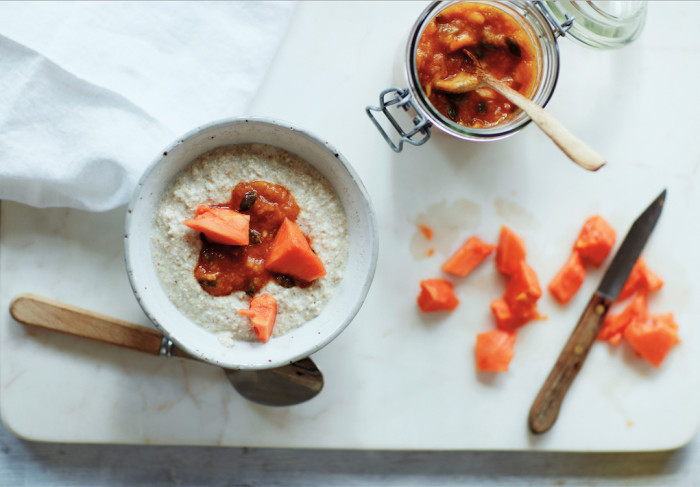 You are the master of your dietary destiny. Pick up a boost from fitness guru and nutritionist Julie Montagu's new book, Superfoods, and start your morning off with fruit, fiber and hey, maybe even a workout. 
At first glance, you might think this is going to be a tricky recipe, but in reality it's quite easy — especially when it comes to making the buckwheat porridge. You can get most of this ready the night before, which is a bonus, particularly if you're rushing to work or taking the kids to school.
In addition to being high in vitamins A and C, papaya contains papain, a digestive enzyme that is used to treat digestive disorders. It is also excellent for skin conditions, such as acne.
Ingredients
Buckwheat porridge
1

cup

raw buckwheat groats

2

cups

water

1/2

cup

almond milk (or any plant-based milk)

1

teaspoon

vanilla extract

1

tablespoon

lime juice
Papaya topping
1

large papaya

Zest of 1 lime

1/2

teaspoon

ground cinnamon

1/4

teaspoon

ground ginger

1/4

teaspoon

ground nutmeg

2

tablespoons

raw honey

2

tablespoons

pumpkin seeds
Directions
For the porridge
Soak the buckwheat groats in the 2 cups water for at least 1 hour or overnight.

After soaking, strain and rinse well. Put the soaked groats, almond milk, vanilla extract and lime juice in a blender or food processor and blitz well.
For the topping
To make the topping, peel the papaya, then cut it into chunks and place in a large jar or container. Add the remaining ingredients and mash together with a large spoon — this will release the juices from the papaya, but be sure to leave a few good chunks.

Cover your jar or container with an airtight lid and place in the fridge to marinate if you have time. (Again, a great one to get ready the night before.)

Once marinated and ready to go, put your porridge in a bowl and spoon the papaya topping all over.