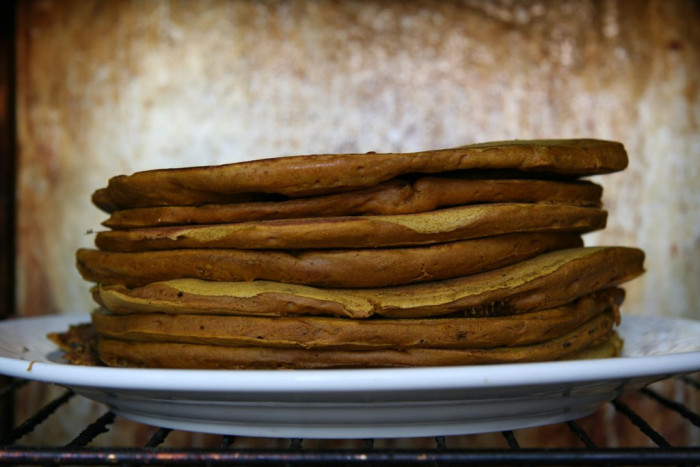 The combination of white and buckwheat flours, while not exactly gluten-free, makes for some pretty famous combinations. Savory crepes, for instance, are made with half buckwheat and half all-purpose flour. Soba noodles are 80% buckwheat flour and 20% all-purpose. Even the blini for your potential caviar is a blend: 2 parts buckwheat flour to 1 part all-purpose. So naturally, a variation on this formula must translate into delicious breakfast or brunch pancakes.

We stuck with the crepe ratio of half-n-half to keep things on the fluffy side. To further our fluff efforts (flufferts?), don't overbeat your batter or you'll get tough, chewy pancakes nobody will want to put homemade orange-infused honey all over. And that would be a tragedy.
Ingredients
Orange Honey
1

cup

honey

juice of one orange

zest of one orange
Pancakes
3/4

cup

buckwheat flour

3/4

cup

all-purpose flour

2

tablespoons

sugar

1 1/2

teaspoons

baking powder

1/2

teaspoon

baking powder

1/2

teaspoon

salt

1 1/2

cups

buttermilk

3

tablespoons

unsalted butter, melted, plus more for serving

2

large

eggs
Directions
In a medium bowl, combine honey, orange juice and zest and set aside.
Combine dry ingredients in a large bowl and set aside.
Whisk wet ingredients together in another large bowl.
Stir the wet into the dry until just combined and smooth — don't overmix or your pancakes will be tough and dry.
Preheat a large non-stick pan on medium heat, then follow our easy instructions for making perfect pancakes.
Serve hot with butter and orange honey.