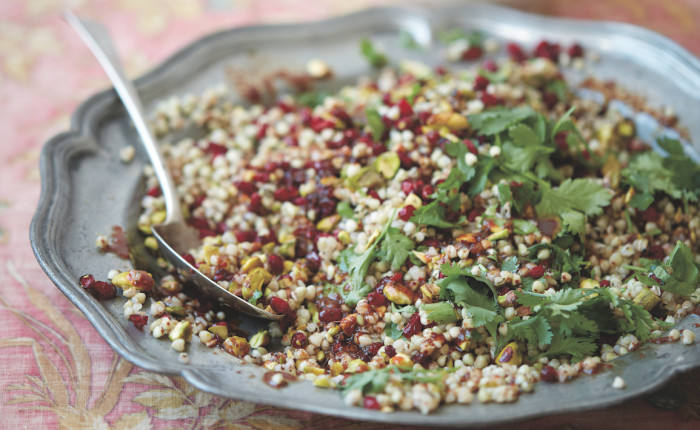 If there's one Yiddish word you need to learn, it's "fress." It means chowing down without restraint, and it's the mantra of a new cookbook by British food writer Emma Spitzer. Dive into updated versions of beloved Jewish recipes from Poland and Russia and modern classics from around the Middle East and North Africa. This buckwheat salad with barberries accented by a tangy spiced pomegranate dressing is packed with so much flavor! 
Inspiration for this salad came from a very traditional Jewish dish called kasha varnishkes. Otherwise known as buckwheat, kasha is a gluten-free grain similar in appearance to freekeh and offers a protein-rich alternative to carb-heavy grains such as couscous or rice. Its nutty flavor lends itself really well to this powerful dressing.
Ingredients
1

cup

buckwheat

2/3

cup

hot vegetable or chicken stock

1/3

cup

unsalted pistachio nuts, coarsely chopped

2

tablespoons

dried barberries

1

teaspoon

dried mint

1

tablespoon

olive oil

2

large handfuls

cilantro, finely chopped
Pomegranate Dressing
1

tablespoon

date syrup

1

tablespoon

pomegranate molasses

juice of 1 lemon

1

teaspoon

ground cumin

1

teaspoon

ground sumac

1/2

teaspoon

grated fresh ginger root

1/2

teaspoon

Harissa

sea salt and freshly ground black pepper
Directions
For the salad
Place the buckwheat in a sieve and rinse really well under cold running water. Add to a medium saucepan and cover with the hot stock. Bring to a boil, then cover with a lid and let simmer gently for 10 to 12 minutes until the buckwheat is soft but still retains a little bite.

Drain and spread out on a tray or a plate to cool slightly (this prevents it from ending up as one big sticky mass).

Beat the ingredients for the dressing together in a bowl and set aside.

Transfer the buckwheat to a large bowl, then stir in the pistachios, barberries, and mint, add the dressing, and mix it through with a fork. Finish with the olive oil and cilantro, reserving a tablespoon of the latter for garnish. Serve at room temperature, scattered with the reserved cilantro.