Bucatini al'Amatriciana Recipe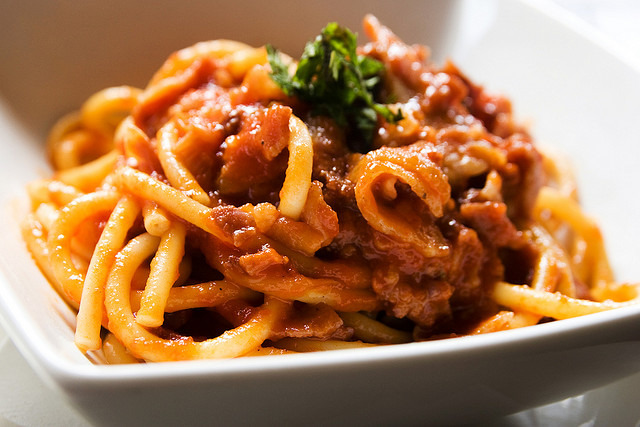 Bucatini al Amatriciana
While this Bucatini al'Amatriciana is typically prepared with guanciale — cured pig's cheek — we're more than happy to substitute pancetta or even bacon for that salty, chewy pork that makes this traditional Italian dish so popular. New York City's Tuscan eatery Casa Nonna serves this classic version that's easy enough to make any weeknight, but impressive enough to cook for a crowd or serve at a weekend dinner party.
Bucatini al'Amatriciana Recipe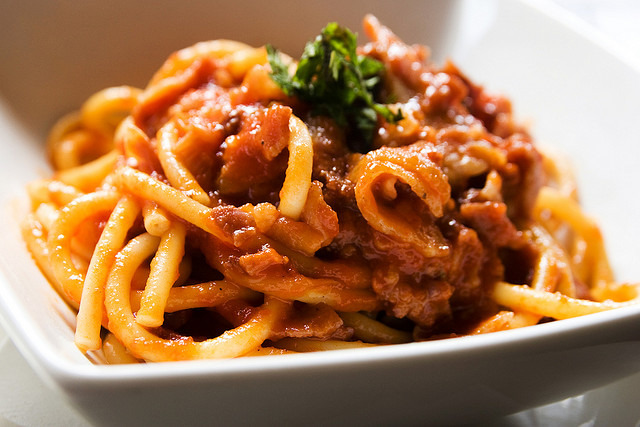 Ingredients
1 pound bucatini pasta
3 tablespoons extra virgin olive oil
1 tablespoon butter
4 oz thinly sliced
2 cloves garlic
1 bay leaf
1/2 medium onion
1/2 teaspoon crushed red chile flakes
1 28-oz can peeled tomatoes
1 1/4 cups grated Pecorino Romano
kosher salt
Directions
Heat oil in a large, high-sided skillet over medium heat. Add garlic and brown lightly
Add guanciale (or pancetta); cook, stirring, until lightly browned, 6–8 minutes.
Add onions and bay leaf; cook over low heat, stirring occasionally, until soft, about 6 minutes.
Add hot pepper flakes. Stir in tomatoes, reduce heat to medium-low, and simmer, stirring occasionally, until sauce thickens and flavors meld, 20–25 minutes. Season with salt and pepper. 
Bring pot of salted water to a boil. Add pasta and cook until just al dente 8 minutes or so. 
Heat reserved sauce over medium heat. Drain pasta when cooked and add a bit of pasta cooking water and pasta to the sauce. 
Cook, tossing, until sauce clings to pasta, 2–3 minutes. Add butter and olive oil; toss. Finish with grated pecorino cheese.