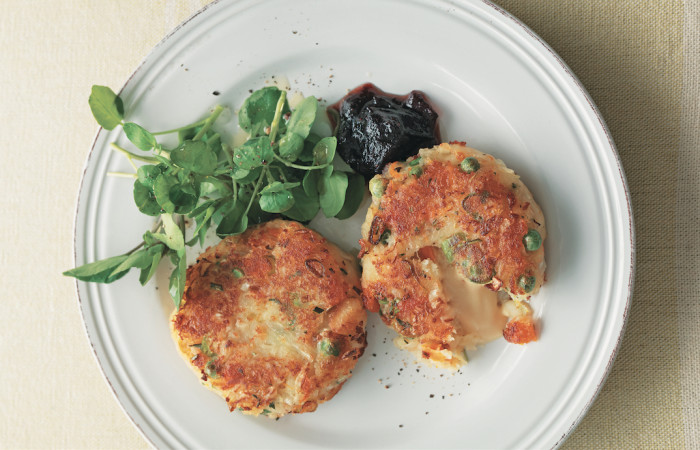 We've been anticipating a cookbook release from London's beloved vegetarian restaurant Mildreds for quite some time. It's not that we don't love the animal protein–heavy cuisine of the Brits; sometimes you just need a little roughage, and that's what Mildreds: The Vegetarian Cookbook aims to do. 
These delicious cakes would make a perfect Christmas Day appetizer, or a Boxing Day lunch using the leftover roasted vegetables from the big meal itself. The gooey melted rarebit in the center of the cakes transforms the bubble and squeak into something quite special.
Reprinted with permission from Mildreds
Ingredients
olive oil

2

pounds

potatoes, peeled and cut into 1 1/2-inch chunks

2

carrots, peeled, halved and cut into 2-inch pieces

2

parsnips, peeled and cut into 1 1/2-inch chunks

1/2

small onion, chopped

3 1/4

cups

cabbage, chopped

1

rosemary sprig

1

thyme sprig

1

cup

peas, defrosted if frozen

5

scallions, trimmed and finely sliced

salt
Welsh rarebit
3 1/2

tablespoons

butter

3

tablespoons

gluten-free all-purpose flour (or regular all-purpose flour, for non-gluten-free)

2/3

cup

gluten-free ale (or regular ale, for non gluten-free)

8

ounces

smoked cheddar or regular sharp cheddar cheese

2

teaspoons

Dijon mustard

1

teaspoon

vegetarian Worcestershire sauce

3

tablespoons

sour cream
To serve
2

cups

watercress leaves

1/2

cup

cranberry sauce
Directions
For the bubble and squeak cakes
Preheat the oven to 400°F.

For the rarebit, melt the butter in a saucepan over low heat, add the flour, and cook, stirring, for 1 minute. Add the ale, cheese, mustard, relish, and sour cream and cook, stirring, until the cheese has melted and the sauce is thick. Spoon into a container and chill in the freezer for 15 to 20 minutes, or until the rarebit is cold but still pliable. Once chilled, divide the mixture into 12 to 16 pieces and roll them into balls. Flatten the balls slightly to finish, and return them to the freezer until needed.

Splash a little oil into a roasting pan, add the potatoes, carrots, and parsnips, season with salt, and mix together thoroughly to coat. Roast for 20 to 25 minutes, or until the vegetables are golden brown at the edges. Set aside to cool.

Heat a drizzle of oil in a skillet, add the onion, and sauté for
8 to 10 minutes, or until translucent. Add the cabbage and herbs and cook, stirring, for 3 to 4 minutes, or until tender. Set aside.

Add the roasted vegetables to a bowl along with the peas and coarsely mash them together. Add the onion, cabbage, and scallions and mix together with your hands. Take a scoop of the mixture and flatten it to just bigger than the size of your palm. Place a rarebit ball in the center and fold the mixture around it to form a cake. Repeat with the remaining bubble and squeak and rarebit balls.

Add a layer of olive oil to a large nonstick skillet over medium heat. Set the potato cakes in the skillet and fry for 4 minutes on each side until brown and crisp. Serve with watercress and cranberry sauce.