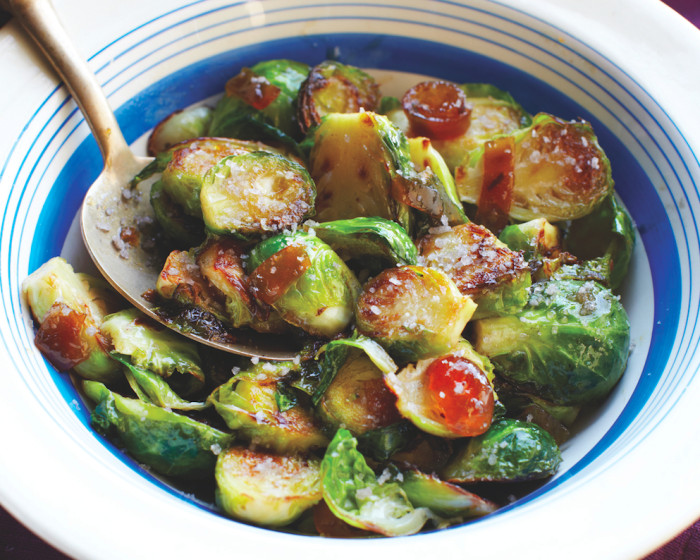 That's right, they're not just for toast anymore! Jam, marmalade and other fruit and vegetable preserves are a welcome addition in this new collection of recipes from James Beard-nominated Rachel Saunders, author of Blue Chair Jam Cookbook. How many meals can you incorporate jam into? Let's find out, starting with bacon-studded Brussels sprouts.
This extraordinary juxtaposition of flavors and textures is an irresistible crowd-pleaser. Browned Brussels sprouts, just starting to fall apart, plus chewy candied kumquats and smoked salt, all set against a rich background of bacon: Need I say more?
Reprinted with permission from Blue Chair Cooks With Jam & Marmalade
Ingredients
1/4

cup

bacon fat

1

pound

brussels sprouts, sliced lengthwise into thirds

5

tablespoons

kumquat marmalade (recipe below)

2

large pinches

smoked sea salt
Kumquat Marmalade
2 1/4

pounds

Eureka or Lisbon lemons, cut into eighths

2 1/4

pounds

tart kumquats (such as Nagami), seeded and quartered

4 1/2

pounds

white cane sugar

1/4

- 1/2 cup

strained freshly squeezed Lisbon or Eureka lemon juice
Directions
For the kumquat marmalade:
Place the lemon eighths in a nonreactive saucepan where they will fit snugly in a single layer. Add enough cold water for the fruit to bob freely.
Cover tightly and let rest overnight at room temperature.
Prepare the cooked lemon juice: Bring the lemon eighths to a boil over high heat, then lower the heat to medium.
Cook the fruit at a lively simmer, covered, for 2 to 3 hours, or until lemons are very soft and the liquid has become slightly syrupy.
As the lemons cook, press down on them gently with a spoon every 30 minutes or so, adding a little more water if needed. The water level should stay consistently high enough for the fruit to remain submerged and float freely as it cooks.
When the lemons are finished cooking, strain their juice by pouring the hot fruit and liquid into a medium strainer or colander suspended over a heatproof storage container or nonreactive saucepan.
Cover the entire setup well with plastic wrap and let drip overnight at room temperature.
Meanwhile, prepare the kumquats: Place the kumquat quarters in a wide stainless steel kettle and add cold water to reach 1 inch above the tops.
Cover tightly and let rest overnight at room temperature.
Place a saucer with 5 metal teaspoons in a flat place in your freezer for testing the marmalade later.
Bring the pan with the kumquats to a boil over high heat, then decrease the heat to medium and cook, uncovered, at a lively simmer until the fruit is tender, 15 to 30 minutes.
Remove the plastic wrap from the lemon eighths and their juice and discard the lemons. Strain the juice well through a very fine-mesh sieve to remove any lingering solids.
In a large bowl, combine the sugar, cooked lemon juice, kumquats and their liquid, and 1/4 cup of the fresh lemon juice. Stir well.
Dip a small spoon into the syrupy liquid and taste the liquid. If you do not detect a bright, tart lemon flavor, cautiously add a bit more lemon juice, stirring and tasting as you go, until you can just taste the tartness and lemon flavor of the juice in the mixture. Once you have reached this point, the mixture is ready to cook.
Transfer the mixture to an 11- or 12-quart copper preserving pan or wide nonreactive kettle. Bring the mixture to a boil over high heat. Cook at a rapid boil until the setting point is reached; this will take a minimum of 25 minutes but may take longer, depending on your individual stove and pan.
Initially, the mixture will bubble gently for several minutes; then, as more moisture cooks out of it and the sugar concentration increases, it will begin foaming. Do not stir it at all during the initial bubbling; then, once it starts to foam, stir it gently every few minutes with a heatproof rubber spatula.
As it gets close to being done, stir it frequently to prevent burning, loewring the heat a tiny bit if needed. The marmalade is ready for testing when its color darkens slightly and its bubbles become very small.
To test the marmalade for doneness, remove it from heat and carefully transfer a small representative half-spoonful to one of your frozen spoons. It should look shiny, with tiny bubbles throughout.
Place the spoon back in the freezer for 3 to 4 minutes, then remove and carefully feel the underside of the spoon. It should be neither warm nor cold; if still warm, return it to the freezer for a moment.
Tilt the spoon vertically to see whether the marmalade runs; if it does not run, and if its top layer has thickened to a jelly consistency, it is done.
If it runs, cook it for another few minutes, stirring, and test again as needed.
Turn off the heat but do not stir.
Using a stainless steel spoon, skim off any surface foam and discard.
Pour the marmalade into sterilized jars. This recipe yields 2 1/2 quarts.
For the Brussels sprouts:
Melt the bacon fat in a shallow 12-inch enameled cast-iron pan over low heat.
Add the Brussels sprouts, toss well and cover.
Allow the sprouts to cook without stirring for 5 to 6 minutes, and then toss well.
Re-cover and continue cooking the sprouts, tossing every few minutes, until the sprouts are tender and browned, another 8 to 9 minutes.
Immediately remove from the heat and add the marmalade and salt.
Toss well, taste for seasoning and serve at once.
Find more Brussels sprouts on Food Republic: