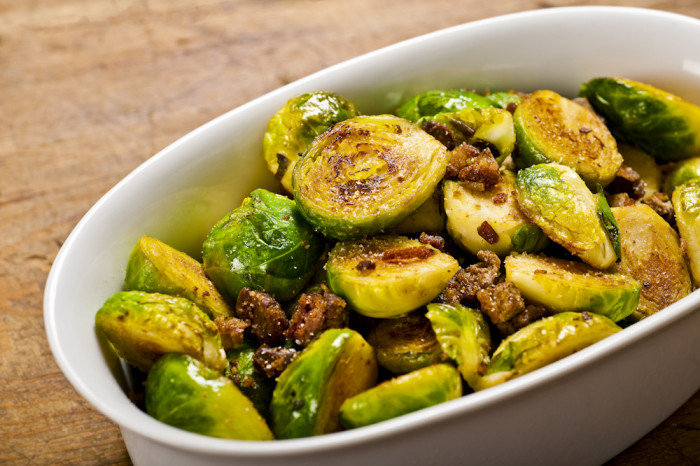 Some of the best recipes are created accidentally, and this one is no exception. I was prepping a really nice organic free-range chicken for roasting at home one evening, and when I reached into the cavity to remove what I assumed would be an wet paper sack of undesirable innards, I pulled out a perfectly smooth, shiny, very fresh liver. It was beautiful. I had to cook it. No, I had to bread it and fry it and eat it all by myself. Then I saw the brussels sprouts I was also planning to roast and put two and two together—brussels sprouts with fried chicken livers.
These flavors in these brussels sprouts are spectacularly balanced: crisp, sweet and tangy from the sugar and red wine vinegar, with the subtle funk of just a little poultry offal. Use the absolute freshest chicken livers you can find, it makes all the difference.
Ingredients
2

tablespoons

canola oil

1

pound

brussels sprouts, trimmed and halved

2

large

chicken livers, rinsed and patted dry

1

large

egg, beaten with 1 tablespoon of water

1/2

cup

plain breadcrumbs

1

teaspoon

turbinado sugar

1

tablespoon

red wine vinegar

2

tablespoons

olive oil
Directions
Season chicken livers with salt and pepper, dip in egg wash, then roll thoroughly in bread crumbs.
Heat the canola oil in a medium, heavy-bottomed skillet over medium-high heat, then fry the chicken livers for about 3 minutes on each side, or until golden brown. Drain on paper towels and set aside.
Heat the olive oil in a large pan over medium-high heat and saute the brussels sprouts for 8-10 minutes, or until browned on the surface.
Add sugar and vinegar to pan, toss to coat thoroughly and lower heat
Chop fried chicken livers into small cubes and add to pan. Toss to combine, taste for salt and pepper and continue to cook on low heat until brussels sprouts are cooked through (but still crisp), about 5 minutes.