Brussels Sprouts Hash Recipe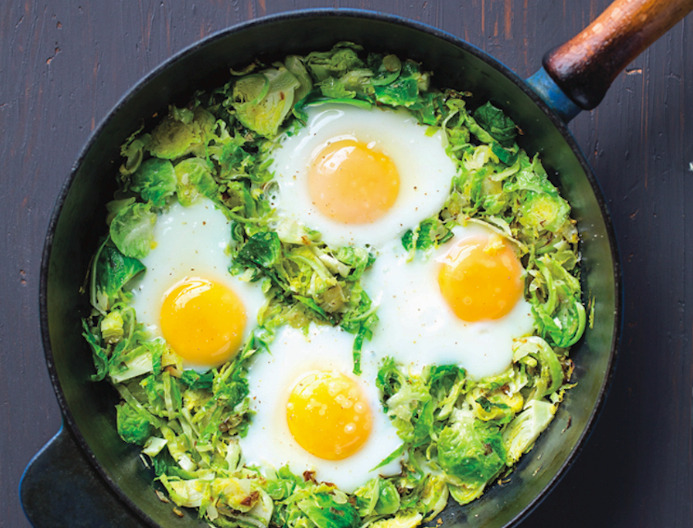 We may receive a commission on purchases made from links.
We're strong supporters of the "put an egg on it" theory that many dishes can be improved with the addition of a good old-fashioned sunny side-up. But Lara Ferroni's new book takes it a step further, as in, you'll never have to think what to put an egg on again. Her recipes are tailored to feature this ingredient at its finest, particularly where Brussels sprouts are involved.
If brussels sprouts had been served this way when I was a kid, instead of being little balls of gray, bitter mush, I might not have missed out on twenty-something years of one of my favorite fall vegetables. How sad!
Brussels Sprouts Hash Recipe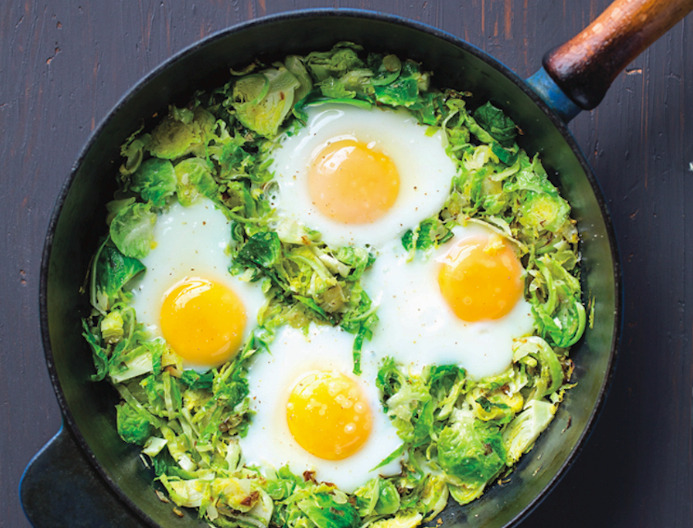 Ingredients
2 tablespoons grapeseed or olive oil
1 (5-inch) sprig fresh rosemary
1/4 cup chopped onion
2 cloves garlic
4 cups shredded brussels sprouts
4 eggs
salt and freshly ground pepper
Directions
Heat the oil in a medium, lidded cast-iron skillet over medium heat. When it's shimmering, add the rosemary. Cook for about 1 minute, then remove the sprig, setting it aside on a plate to cool. Add the onion and garlic and reduce the heat to medium-low. Cook until the onion softens, about 5 minutes.
Add the sprouts and increase the heat to medium-high. Chop up a bit of the fried rosemary leaves (discarding the woody stem) and add them to the pan. Stirring frequently, cook until the sprouts are golden on the edges, about 5 minutes.
Use a large spoon to create 4 wells in the sprouts and carefully pour an egg into each. Reduce the heat to medium-low, cover, and cook for 2 to 3 minutes, until the eggs are set.
To serve, using a large spoon, carefully scoop from under each egg, gathering a bit of the sprout hash as you go. Season with salt and pepper to taste.
Brussels Sprouts With Fried Chicken Liver Recipe
Pancetta Roasted Brussels Sprouts Recipe
Cleanse Procrastination Brussels Sprouts