Say Cheese: Brussels Sprouts Au Gratin Recipe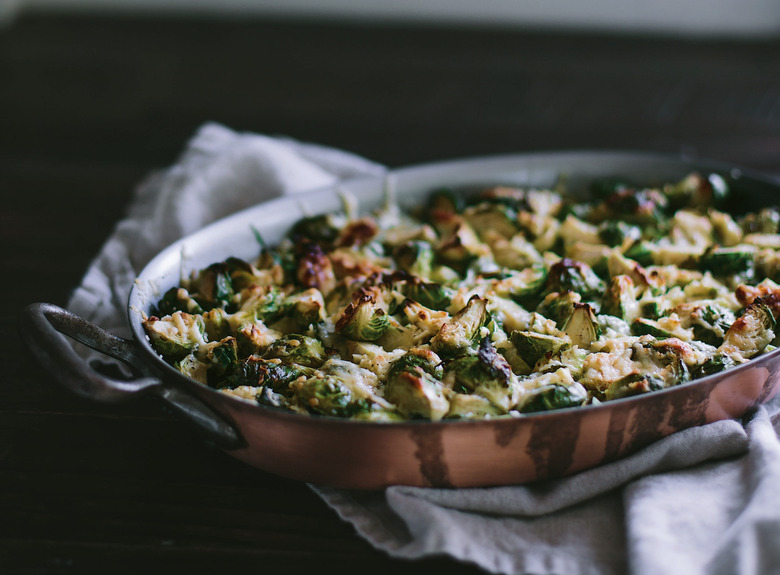 We may receive a commission on purchases made from links.
We love Eva Kosmas Flores' style in the kitchen and on the page, which is why we're so excited about her second collection of recipes. Inspired by her Greek heritage and the rich bounty of produce in America's Pacific Northwest region, First We Eat is an homage to her roots in every way imaginable. Join a CSA or hit the farmers market hard, because it's time for Brussels sprouts au gratin!
I never had Brussels sprouts growing up, because my mother had been served steamed Brussels sprouts on the regular as a child, thus incurring a deep and searing hatred for them. The sour smell of these mini cabbage-like vegetables when they are over-boiled makes me understand her aversion. But there is something magical that happens when you expose the little layers of leaves on each sprout to the heat of an oven. The ends of each leaf crisp up and caramelize, while the internal base of the sprout softens and absorbs all the sumptuous caramelized flavors seeping into it from its leaves. Then, when you add herbs and cream and cheese to the mix, you get something almost obscenely flavorful. This is super-easy to throw together in a pinch, too, so I love making it as an appetizer when I'm entertaining, but it's also hearty enough to be a stand-alone meal for a small group.
Say Cheese: Brussels Sprouts Au Gratin Recipe
Straight outta the Pacific Northwest, it's a Brussels sprouts recipe that has a cheesy twist.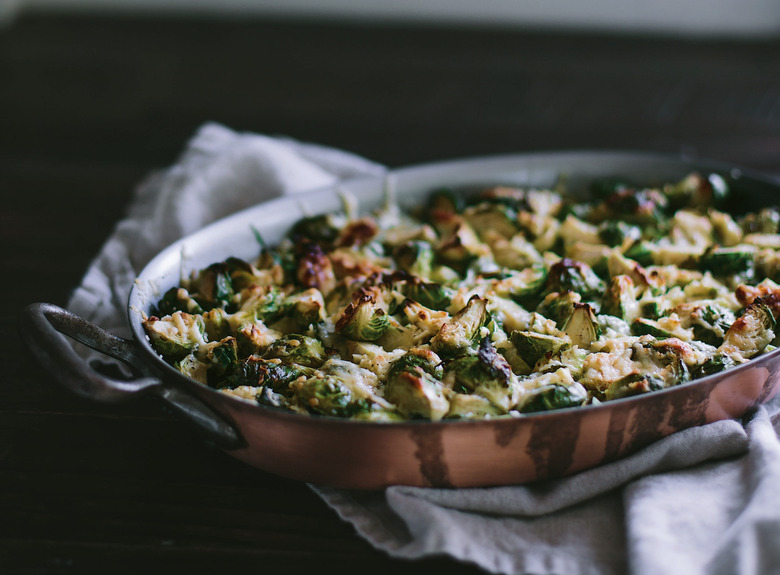 Ingredients
2/3 cup heavy cream
3 garlic cloves
1 teaspoon finely chopped fresh rosemary
1 teaspoon flake kosher sea salt
1/4 teaspoon ground thyme
1/4 teaspoon freshly cracked black pepper
2 pounds brussels sprouts
2 tablespoons extra virgin olive oil
3 tablespoons unsalted butter
1/2 cup grated Parmesan cheese
1 cup grated white cheddar cheese
Directions
Preheat the oven to 425°F (220°C).
In a small bowl, whisk together the cream, garlic, rosemary, salt, thyme, and pepper until combined.
In a large bowl, toss the Brussels sprouts with the oil until coated.
Grease a 2 ½-quart (2.4-L) casserole dish with the butter and spread half of the Brussels sprouts on the bottom of the pan. Dot them with half the butter and sprinkle them with half the Parmesan and half the cheddar. Drizzle half the cream mixture over them, then spread the remaining Brussels sprouts over the top and repeat.
Roast until the tips of the Brussels sprouts are golden and crisp and the cheese has melted, 25 to 30 minutes.