Grill It: Brussels Sprout Skewers With Green Olive Sauce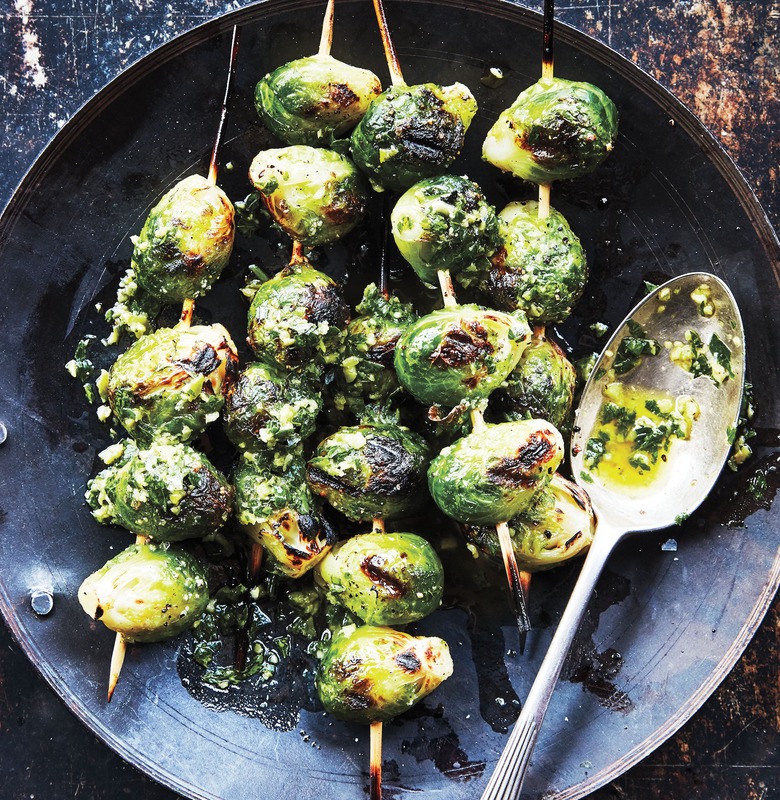 We may receive a commission on purchases made from links.
Let's hear it for Mark Bittman, food writer extraordinaire and cookbook hero to all! The latest release of How To Grill Everything focuses squarely on all things from the barbecue. From soups and salads to elegant, hearty main courses and even dessert, this is the book to pick up if you're looking to expand your grilling repertoire. Make these addictive, briny Brussels sprout skewers for your next cook-out and watch the excellent reviews roll in. 
A recipe that preaches to the choir and makes converts: The fire crisps the outer layers of the sprouts, creating a delicious foil for the nutty, creamy insides. Try to grab small Brussels sprouts all of a similar size so they cook evenly and can be devoured in one bite. Blanching makes the sprouts easier to pierce and lets you crank up the fire to put on the perfect char. You can prepare the skewers and sauce up to several hours in advance and refrigerate; bring both to room temperature while the grill heats.
Brussels Sprout and Soppressata Skewers
This Italian salami—or any good salami for that matter—is a nice switch from the usual bacon: You'll need 1 thin slice soppressata for every sprout. Reduce the oil to 1 tablespoon and use it only to coat the sprouts. Omit the parsley, lime juice, garlic, and olives and skip Step 3. Skewer a sprout, then fold a slice of soppressata into quarters, and push it up against the sprout on the skewer so it fans a little. Repeat with the remaining sprouts and salami. Grill until the soppressata is crisp, even charred in spots.
Brussels Sprout Skewers with Parsley-Cilantro Pesto
A bright, herbal alternative: Omit the olives, and in Step 3, add 1 cup lightly packed fresh cilantro leaves and some salt; process until smooth.
Okra Skewers with Green Olive Dipping Sauce
In Step 1, build a medium direct fire. Substitute small okra pods for the Brussels sprouts. Trim their stems; there is no need to blanch them. Okra is easier to handle if you skewer several crosswise using two skewers, threading the tops with one and the tips with another. Or skip the skewers and put the okra right on the grill if they're large enough. Cook, turning once or more, until they're bright green and you can insert a knife through the center of one without resistance, 3 to 4 minutes per side. Serve with the sauce.
Grill It: Brussels Sprout Skewers With Green Olive Sauce
Make Mark Bittman's addictive, briny Brussels sprout skewers for your next cook-out and watch the excellent reviews roll in.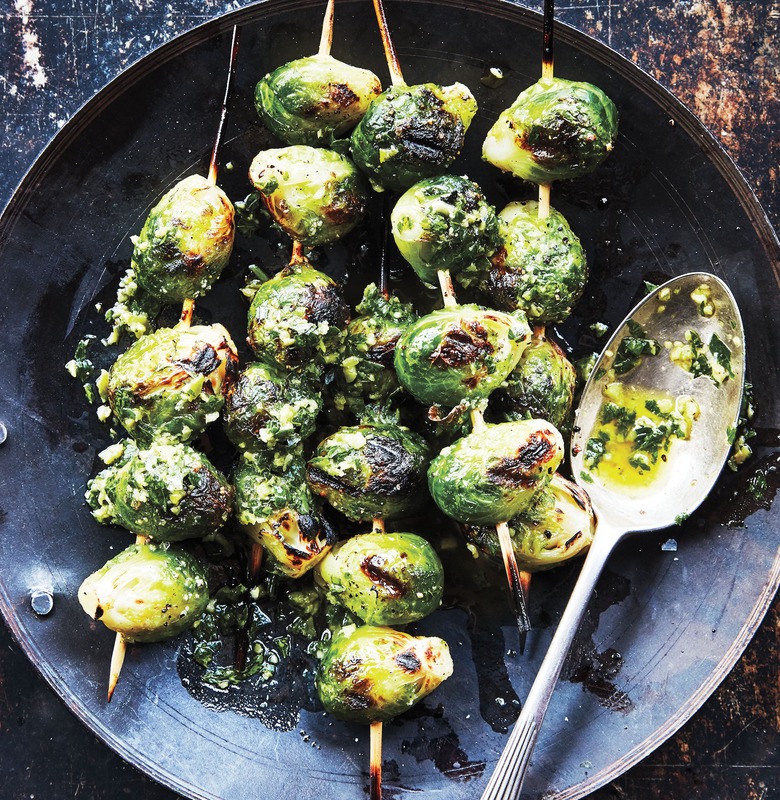 Ingredients
salt
16-36 small Brussels sprouts
3 tablespoons good-quality olive oil
1 cup lightly packed fresh parsley leaves
2 tablespoons fresh lime juice
1 small clove garlic
1/2 cup pitted green olives
Directions
If you're using bamboo or wooden skewers, soak them in water for 30 minutes. Meanwhile, start the coals or heat a gas grill for hot direct cooking. Make sure the grates are clean.
Bring a large pot of salted water to a boil. Trim the Brussels sprouts and remove any discolored outer leaves. Add the sprouts and blanch until just soft enough to pierce with a skewer, 8 to 12 minutes. Drain, then pat dry with paper towels. Toss with 1 tablespoon of the oil in a bowl. When cool enough to handle, thread 4 to 6 sprouts on each skewer.
Make the dipping sauce: Put the parsley, lime juice, garlic, and remaining 2 tablespoons oil in a blender or food processor and process until chopped, stopping to scrape down the side of the container if necessary. Add the olives and pulse until the mixture is a rough purée. Taste and add a little salt if you'd like. Transfer to a small serving bowl.
Put the skewers on the grill directly over the fire. Close the lid and cook, turning once or more, until the Brussels sprouts are tender all the way through and browned, 3 to 5 minutes per side. Transfer to a serving plate and serve with the dipping sauce on the side.