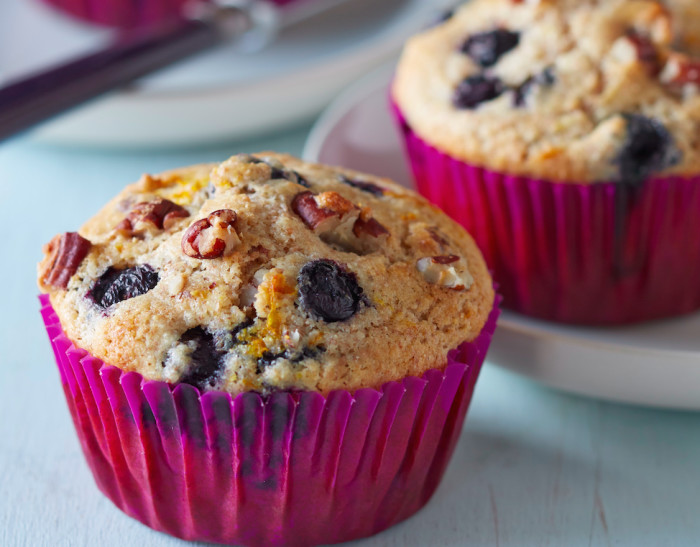 Are you mad for muffins? Don't be, muffins are a happy thing, which is why we're baking our way through cookbook maven Jean Anderson's latest work: Mad For Muffins. This collection of classic, updated and downright creative sweet and savory muffins is a must-have for the avid cold weather baker.
There are blueberry muffins and blueberry muffins but few as good as these made with whole-wheat flour. If fresh blueberries are out of season, use the frozen — solidly frozen. They work just fine.
Ingredients
1

cup

all purpose flour, sifted

1

cup

whole wheat flour, un-sifted

1/3

cup

granulated sugar or raw sugar

1

tablespoon

baking powder

1/4

teaspoon

salt

1/2

cup

toasted pecans, coarsely chopped

1

cup

milk

1/4

cup (1/2 stick)

unsalted butter, melted

1

large

egg, lightly beaten with 1 teaspoon finely grated orange zest

1

cup

fresh or solidly frozen blueberries
Directions
Preheat oven to 400°F.
Lightly grease 12 standard-size muffin pan cups or spritz with nonstick cooking spray, or if you prefer, insert a crinkly muffin liner into each cup. Set pans aside.
Combine first five ingredients (all-purpose flour through salt) in medium mixing bowl.
Add pecans, toss well, then make well in center of dry ingredients and set aside.
Whisk milk, butter and egg mixture in small bowl until smooth, then mix in blueberries.
Pour into well in dry ingredients, and stir only enough to combine—specks of flour should be visible in batter.
Spoon batter into muffin pans, dividing amount equally—each muffin pan cup will be approximately two-thirds full, though occasionally a bit more or a bit less.
Slide onto middle oven shelf and bake 20 to 25 minutes until muffins have risen and their tops are nicely rounded and evenly browned.
Serve oven-hot with plenty of unsalted butter.
Find more muffins on Food Republic: