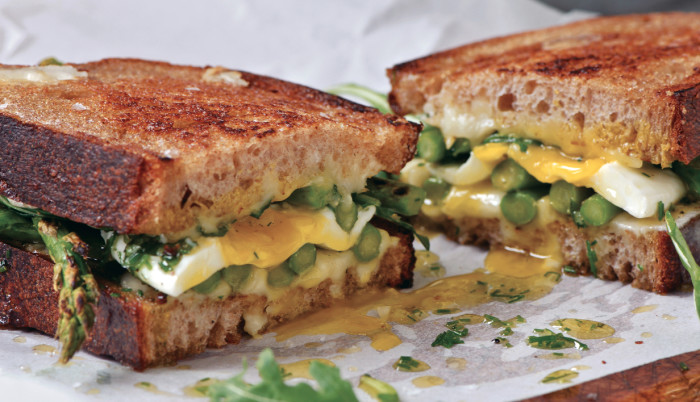 If the only thing keeping you from eating more vegetables in interesting ways is not owning chef and former Eataly vegetable butcher Cara Mangini's new cookbook, you're in luck — it's out, and it's awesome. Fresh produce is front and center in this inventive collection of recipes, so pick up a chef's knife and get chopping.
This is a sexy springtime sandwich that you should not miss. Marinate asparagus spears in lemon, olive oil and herbs and grill them on a grill pan until they take on heady marks of heat and licks of smoke. Then press them between slices of crusty bread with an oozy fried egg with creamy yolk, gooey Taleggio cheese and spicy arugula. The sandwich tastes just as decadent and delicious as it sounds, especially with a crisp Vermentino or a dry rosé (for me, absolutely required).
Notes: Avoid large or jumbo asparagus spears (they are too thick for this sandwich) or cut them in half lengthwise if needed. Do not use pencil-thin asparagus, as they tend to burn on a grill pan, and they do not provide a meaty bite.
If you don't own a grill pan or skillet, you can roast the asparagus on a baking sheet or grill the asparagus on an outdoor grill over medium heat, following the same procedure above.
Ingredients
1

tablespoon

freshly squeezed lemon juice

1/2

teaspoon

freshly grated lemon zest

1/4

teaspoon

fine sea salt, plus extra as needed

1/8

teaspoon

freshly ground black pepper, plus extra as needed

2

tablespoons

extra-virgin olive oil

1

teaspoon

chopped fresh chives

1

teaspoon

chopped fresh mint leaves

8

small to medium

asparagus spears (see Notes), trimmed

2

teaspoons

vegetable oil

2

large eggs

2

tablespoons

unsalted butter

4

slices (1/2 inch each)

pain au levain or sourdough bread (or a crusty boule with a thick, dense crumb)

4

ounces

taleggio cheese

1

cup

baby arugula
Directions
For the panini
Heat a grill pan (or a large skillet) over medium-high heat.

Meanwhile, whisk together the lemon juice and zest, 1/4 teaspoon of salt, ¹/₈ teaspoon of pepper, olive oil, chives, and mint in a large bowl. Add the asparagus and toss until the spears are evenly coated.

Use tongs to lift the asparagus spears from the marinade and transfer them to the hot grill pan. Grill the spears, turning as needed to ensure they cook evenly, until they become golden on the outside and are tender through the center but still slightly crisp, 2 to 5 minutes on each side, depending on the thickness. Pull the asparagus from the pan and toss them back in the marinade. Let them stand at room temperature. (Alternatively, store cooled asparagus and marinate in an airtight container and refrigerate overnight. Bring to room temperature before proceeding.)

Heat the vegetable oil in a medium-size nonstick skillet over medium heat. Swirl the pan to coat the bottom and crack the eggs into the skillet one at a time (you can crack them into small bowls first if you prefer). Season the eggs lightly with a pinch of salt and pepper. Cook until the whites are set and the yolks are still runny, about 2 minutes. For slightly firmer yolks, carefully flip the eggs with a spatula and let them cook to your liking. Transfer the eggs to a plate and set aside.

Melt the butter in the same nonstick skillet over medium heat. Swirl the pan to coat the bottom with the butter and any remaining oil and place the bread in the skillet. Pull apart the Taleggio and dot each piece of bread with 3 to 4 small pieces, making sure to spread them out. Cook, uncovered, until the cheese melts, 3 to 4 minutes.

To assemble the sandwiches, divide the asparagus spears, fried eggs, and arugula between 2 pieces of the bread. Drizzle the other 2 pieces of bread with any remaining marinade and herbs, and use them to top the stacked pieces, cheese-side down. Gently press the sandwiches together with an offset spatula. Cut the sandwiches in half with a sharp chef's knife or serrated knife, and transfer them to individual serving plates immediately.