How To Make Brownie-Filled Doughnut Holes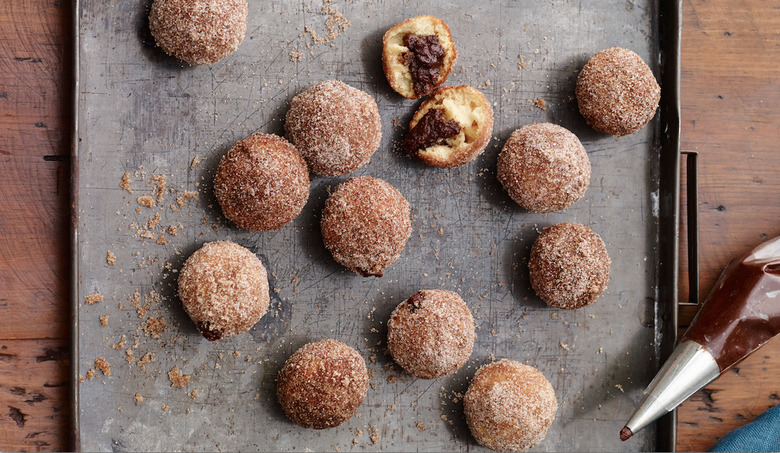 We may receive a commission on purchases made from links.
Brownie batter is so much more than the sum of its parts. Join Brownie Brittle founder Sheila G. Mains in discovering the limitless potential of brownie creativity with her new cookbook, Butter & Chocolate. You just might find your favorite new must-bake dessert, like these deceptively complex brownie-filled doughnut holes.
These are super for when neighbors come by to watch football. No plates or forks required. If quizzed about what they are, just say offhandedly, "Oh, plain old doughnut holes." Then watch their faces light up as they take their first bite and the fudgy brownie flavor fills their mouths. Guaranteed high fives all around.
Reprinted with permission from Sheila G's Butter & Chocolate
How To Make Brownie-Filled Doughnut Holes
These Brownie-Filled Doughnut Holes Recipe will please all of your guests with a little surprise within.
Servings
24
doughnut holes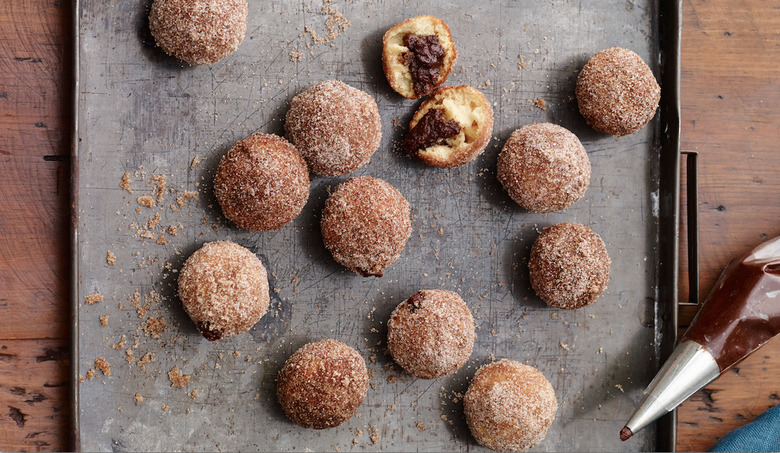 Ingredients
1 cup self-rising flour (or all-purpose flour plus 1/2 teaspoon baking soda)
1 tablespoon sugar
1 teaspoon baking powder
1/4 teaspoon salt
2 tablespoons canola oil
1 large egg
2 teaspoons pure vanilla extract
1/2 cup low-fat (1%) milk or almond milk
1 cup Brownie filling
1 14-ounce can sweetened condensed milk
12 tablespoons (1 1/2 sticks) salted butter
2 teaspoons pure vanilla extract
1 cup 100 percent baking cocoa
3/4 cup all-purpose flour
1/3 cup sugar
2 teaspoons ground cinnamon
1 tablespoon salted butter
Directions
:::filling:::
Blend the sweetened condensed milk with the melted butter. Mix in the vanilla. Add the cocoa and flour and mix thoroughly. Allow to cool; texture will be exactly like a brownie batter.
Store in an airtight container in the refrigerator for up to one month. Bring to room temperature before using.
:::doughnut holes:::
Preheat the oven to 350°F. Grease the doughnut hole pan or mini muffin pan with nonstick cooking spray. Wipe off excess oil with a paper towel and set aside.
Prepare the doughnut hole batter: Whisk together the flour, sugar, baking powder, and salt. Make a well in the center of the dry ingredients and add the oil, egg, vanilla, and milk. Whisk the batter until smooth and lump-free.
Spoon about 2 teaspoons of the batter into each section of the pan, filling them three-quarters full.
Bake the doughnut holes, checking after 10 minutes and every minute thereafter, until they are golden in color and a toothpick inserted into the center comes out clean. Allow the doughnut holes to cool for 5 minutes in the pan, then transfer them to a cooling rack.
Prepare the cinnamon-sugar coating: Mix together the sugar and cinnamon for the coating in a shallow bowl.
Brush each cooled doughnut with a light coating of the melted butter. Roll each doughnut hole in the cinnamon-sugar until evenly coated.
Fill a pastry bag with the brownie filling. Use a narrow nozzle to pipe the brownie filling into the center of each doughnut hole, filling it until the doughnut puffs up and expands. (Don't overfill or the doughnut holes will overflow.)