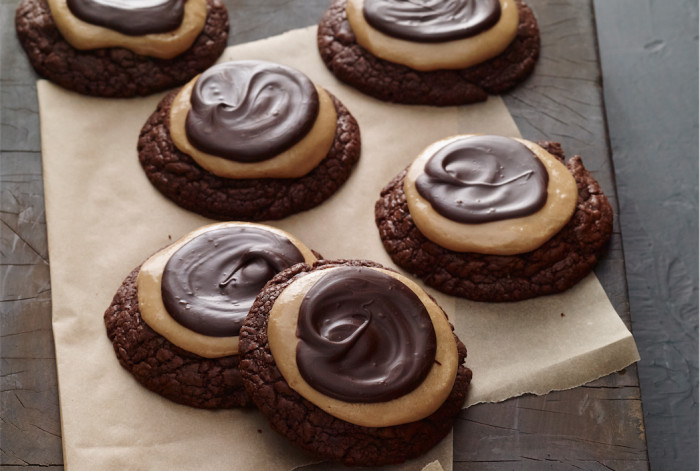 Great batter is so much more than the sum of its parts, especially when it comes to brownie buckeye cookies. Join Brownie Brittle founder Sheila G. Mains in discovering the limitless potential of brownie creativity with her new cookbook, Butter & Chocolate. You just might find your favorite new must-bake dessert.

What's not to like about buckeyes — those small peanut butter balls surrounded by creamy milk chocolate? I'll tell you: They're labor intensive! So, one holiday season, when my to-do list outdistanced my time, I decided to create something quick and easy with the same terrific taste. These cookies take half as long to make as buckeyes, are less messy to eat, and deliver the same peanut buttery chocolate taste we all know and love. That first Christmas, no one even missed the buckeyes, and I had a few precious moments to myself to relax. P.S. I haven't made traditional buckeyes since.

Reprinted with permission from Sheila G's Butter & Chocolate
Ingredients
Brownie Cookies
2

cups

semisweet chocolate chips

6

tablespoons

salted butter

2

large eggs

1

teaspoon

pure vanilla extract

1/2

cup

sugar

1

cup

all-purpose flour

1/2

teaspoon

baking powder

1/4

teaspoon

salt

1

tablespoon

100 percent baking cocoa
Peanut Butter Filling
1

cup

creamy peanut butter (all-natural recommended)

1

cup

confectioners' sugar
Semisweet Chocolate Topping
1/2

cup

semisweet chocolate chips

1/4

teaspoon

vegetable shortening or coconut oil
Directions
For the cookies
Preheat the oven to 350°F. Grease a sheet pan and set aside.

Prepare the brownie cookies: Microwave chocolate chips and butter in microwave-safe bowl on high for 30 seconds; remove and stir. Return to the microwave if not thoroughly melted, and microwave in 15-second intervals until smooth and creamy.

Use an electric mixer set on the lowest speed or spatula to mix together the eggs, vanilla, and sugar in a separate bowl. Blend the egg mixture into the melted chocolate mixture. Add the flour, baking powder, salt, and cocoa, and mix thoroughly. Use a large scoop to measure portions of the batter onto the prepared sheet pan. Bake for 11 minutes, or until center is set and edges begin to crisp. Allow to cool completely.

Prepare the peanut butter filling: Mix together the peanut butter and confectioners' sugar. Mix until blended.

Use a small scoop to measure portions of the peanut butter filling and roll them into small balls by hand. Press a ball of the peanut butter filling into the center of each brownie cookie.

Prepare the semisweet chocolate topping: Microwave the chocolate chips and shortening as per step 2.

Scoop a tablespoon of the melted chocolate topping onto the center of the peanut butter mixture. Let cool for 15 minutes to allow the chocolate to set.