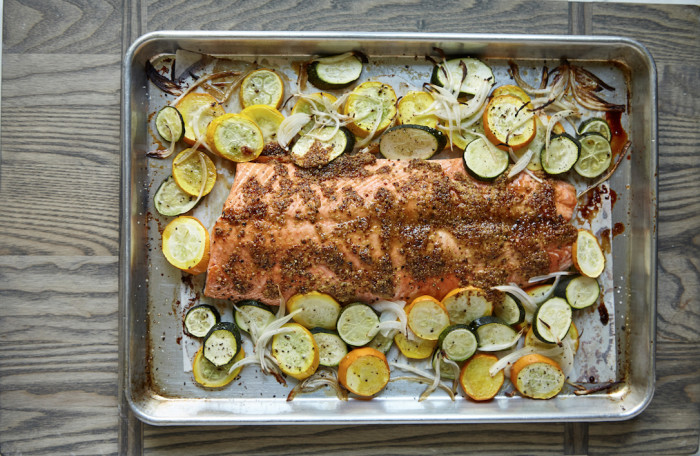 You want to get dinner on the table, fast! The only problem is, you don't have a lot of time and don't want to rely on canned, instant or frozen solutions. Blogger Robyn Stone has you covered, with her new collection of recipes designed to feed everyone in the house healthfully (in under an hour). Start with this quick brown sugar baked salmon and work your way through her delicious repertoire.
Salmon is another favorite fish in my house. I could eat it every single day and be a happy girl! And it's so good for you too. This savory-sweet one-dish meal is one of my favorite ways to prepare it — especially for busy weeknights. I prefer to use wild-caught Alaskan salmon, so I stock up when it's in season or I find a great sale.
Leftover Makeover:
-Salmon With Spinach And Egg
-Sauté fresh spinach in a bit of olive oil until wilted. Transfer to a plate and top with some leftover salmon, veggies, and a poached or fried egg.
Ingredients
1

whole salmon fillet (about 2 pounds)

3

medium squash, thinly sliced

2

medium zucchini, thinly sliced

1

medium onion, thinly sliced

2

tablespoons

olive oil

1

teaspoon

kosher salt

1/2

teaspoon

freshly ground black pepper

1/4

cup packed

dark brown sugar

1 1/2

teaspoons

stone-ground mustard
Directions
For the salmon
Preheat the oven to 425°F. Line a rimmed baking sheet with parchment paper or foil.

Place the salmon, skin side down, on the prepared baking sheet. Arrange the vegetables alongside the salmon around the edges of the baking sheet. Drizzle the vegetables with the olive oil. Sprinkle the salmon and vegetables with the salt and pepper. Cover the fish and vegetables with another piece of parchment paper or foil. Bake for 10 minutes.

Meanwhile, in a small bowl, combine the brown sugar and mustard.

Remove the salmon and vegetables from the oven and remove the top piece of parchment paper or foil. Spread the brown sugar mixture over the salmon and return the pan to the oven. Bake until the salmon is firm to the touch and a thermometer inserted in the thickest part registers 135°F, about 15 minutes.