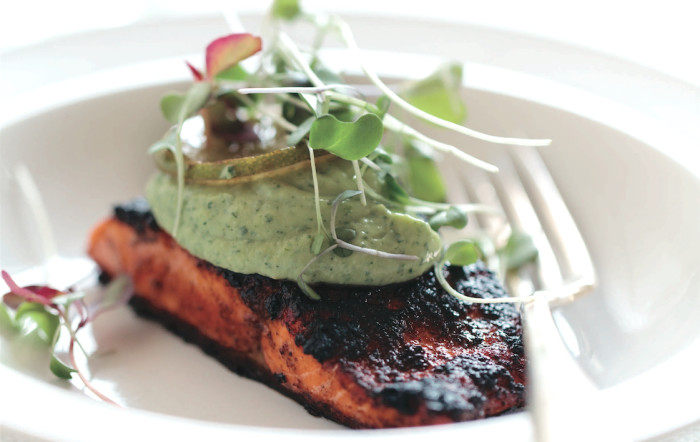 With all the diet-centric cookbooks out these days, can't we all just have a little fat and carbs and leave it all behind? Yes, we can! Grab a copy of food writer and blogger Andie Mitchell's Eating in the Middle and redefine what a balanced diet means. Besides, it's not a really good recipe if you're still hungry afterward, right? 

Do you ever make a meal and just know — I mean know, with absolute certainty — that somewhere in the Hamptons, Ina Garten would be, like, super-proud of you? That even if she were completely absorbed in splitting vanilla beans for homemade extract, she would totally side-eye your dish and smile?

This is that meal. It's got caramelized lime slices, for heaven's sake! Ina would be positively smitten. What I love about it, and what I think you (and Ina) will, too, is that the brown sugar–chili rub gives the salmon a spicy-sweet quality, and a smokiness when it's nearly blackened in a hot pan. The crema — a silky blend of avocado, sour cream, lime juice, parsley, and garlic — is a nice, cooling balance.
Ingredients
Avocado Crema
1/2

avocado, peeled and pitted

2

tablespoons

sour cream

2

tablespoons

fresh lime juice

1

garlic clove

1/4

cup

packed fresh flat-leaf parsley

pinch of salt
Salmon
1

tablespoon

packed light brown sugar

1

tablespoon

chili powder

1/2

teaspoon

salt

Pinch

cayenne pepper

4

5-ounce

Salmon Fillets

4

teaspoons

extra-virgin olive oil

1

lime, thinly sliced into rounds
Directions
For the salmon
For the avocado crema, in a blender or food processor, combine the avocado, sour cream, lime juice, garlic, parsley, and salt, and pulse until smooth. The consistency should be similar to sour cream — thick yet spreadable. To thin it, add a tablespoon or two of water and pulse to incorporate. Cover and set aside until ready to serve. The crema will keep in an airtight container in the refrigerator for 1 day.

For the salmon, in a small bowl, combine the sugar, chili powder, salt and cayenne pepper. Lay the salmon fillets on a clean work surface and sprinkle the brown sugar mixture evenly over each fillet, rubbing it into the flesh on all sides.

In a 12-inch nonstick skillet set over medium-high heat, heat 2 teaspoons of the oil. Add 2 of the salmon fillets (skin-side up, if they have skin on) and cook, undisturbed, until their undersides are crisp and just beginning to blacken, about 4 minutes. Flip the fillets and cook until the fish feels firm to the touch, 4 minutes more. Transfer to a warm plate. Add the remaining 2 teaspoons of oil to the pan and swirl to coat. Repeat the cooking process with the remaining 2 fillets of salmon. Set the salmon aside.

Add the lime slices to the skillet and cook just until they begin to caramelize, about 30 seconds. Flip and cook for an additional 30 seconds.

To serve, divide the salmon fillets among 4 plates and spoon 2 tablespoons of crema over each. Press a caramelized lime slice into the crema to garnish.