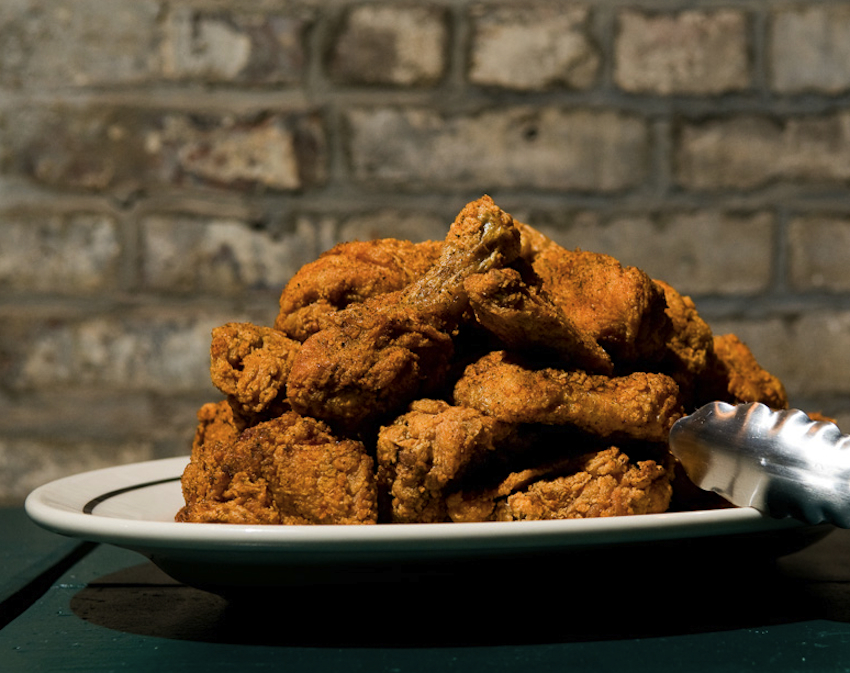 Everyone from Kanye West to Guns N' Roses has taken the stage at Williamsburg's Brooklyn Bowl — Beyonce, Lorde and President Clinton have all hit the lanes — but it's the venue's comfort food menu that keeps the crowd coming back.
You haven't done Brooklyn Bowl right until you've demolished a platter of Blue Ribbon chef/owners Bruce and Eric Bromberg's original famous fried chicken. Chef Michael Psilakis called it "the best crispy, crunchy, yummy fried chicken I've had in my life." And that guy knows a good snack when he sees it.
Ingredients
Cajun Seasoning
1/4

cup

kosher salt

1/4

cup

paprika

1

tablespoon

fine sea salt

1

tablespoon

freshly ground black pepper

1

teapoon

garlic powder

1/2

teaspoon

onion powder

1/2

teaspoon

sugar
Brooklyn Bowl Fried Chicken
vegetable oil, for frying

4

large

egg whites

1/2

cup

matzo meal, or matzo crackers crushed with a rolling pin

1/2

cup

all-purpose flour

1

medium

chicken (about 3 pounds), cut into eight pieces (2 legs, 2 thighs, 4 breast pieces; save wings for stock)

fine sea salt

freshly ground black and white pepper

1

teaspoon

Cajun seasoning

honey, for serving
Directions
For Cajun seasoning:
Combine all ingredients and store in a covered container. Makes about 3/4 cup.
For the fried chicken:
Fill a large pot with oil to a depth of about 3 inches.
Heat the oil over medium-high heat until a deep-fat thermometer reads 375°F.
Meanwhile, whisk the egg whites in a large, shallow bowl.
In a separate shallow bowl, combine the matzo meal and flour.
Keeping the dark meat and the white separate, dip each chicken piece in egg white and let excess drip back into the bowl.
Roll each chicken piece in the matzo mix, and tap off excess.
Carefully lower the chicken thighs and drumsticks into the oil.
After 3 minutes, carefully add the breast pieces. (Keep the oil at 375°F by adjusting heat as necessary.)
Fry until dark-gold, about 10 minutes more.
Transfer the fried chicken to a paper-towel-lined plate.
Sprinkle immediately with salt and pepper. Then coat the pieces with the Cajun seasoning.
Serve the chicken with honey, for dipping.
Find more delectable fried chicken recipes on Food Republic: