Brooklyn Blackout Cake Recipe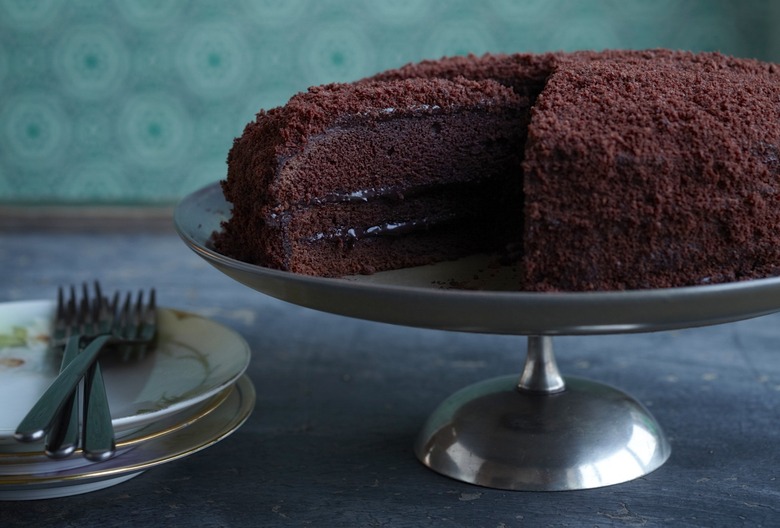 Photo: Con Poulos
We may receive a commission on purchases made from links.
If your baking abilities are shaky at best, look no further than celebrated writer and cookbook author Annie Bell's Baking Bible. This thick volume has recipes for all your favorite desserts, plus a few you've never even imagined. We'll take either kind of Brooklyn Blackout, but we prefer the cake to the night out of drinking, frankly. 
This is a wow of a chocolate cake and, quite unlike any other. You sandwich and smother it with lashings of thick chocolate frosting, into which you then press a curtain of cake crumbs — the blackout. While the frosting is traditionally made with water (in the U.S.), I prefer to use milk.
Brooklyn Blackout Cake Recipe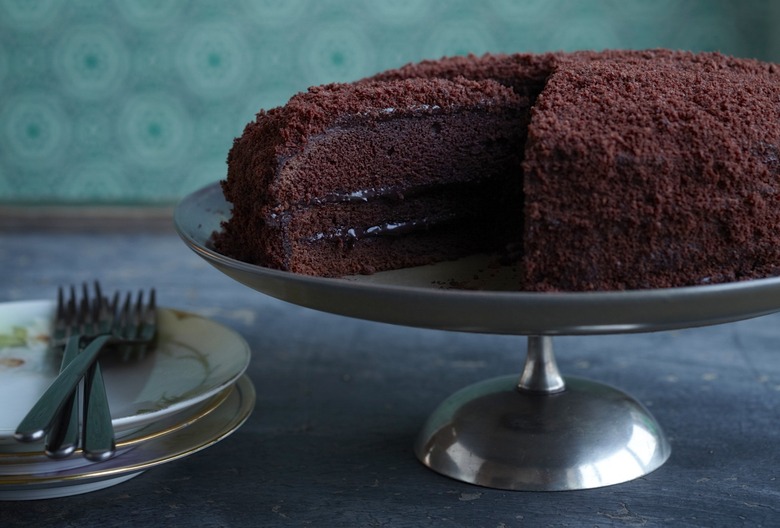 Ingredients
unsalted butter
1/2 cup cornstarch
2 1/2 cups whole milk
1 1/2 cups superfine sugar
1 tablespoon light corn syrup
1 heaping cup cocoa powder
1 teaspoon vanilla extract
7 tablespoons unsalted butter
13 tablespoons unsalted butter
1 1/2 cups superfine sugar
3 large eggs
1 teaspoon vanilla extract
1/2 cup cocoa powder
1 teaspoon baking powder
1 teaspoon baking soda
2 1/4 cups all-purpose flour
1 cup whole milk
Directions
First make the frosting as this requires several hours to cool. Blend the cornstarch with about one-third of the milk until smooth. Bring the remaining milk to a boil in a small nonstick saucepan with the sugar, corn syrup and cocoa, whisking until smooth.
Add the cornstarch solution and bring to a boil, stirring constantly until you have a rich, thick custard. Remove from the heat and add the vanilla and butter, stirring until it melts. In a perfect world it should be silky smooth; if it seems lumpy, simply process it briefly in a food processor.
Pour into a large bowl, cover the surface with plastic wrap, and set aside to cool. Give it a stir before using.
Preheat the oven to 325°F convection oven/375°F conventional oven, and butter two 8-inch nonstick cake pans with removable bases, at least 2 inches deep. Cream the butter and sugar together in a food processor, then incorporate the eggs one at a time.
Add the vanilla, scraping down the sides of the bowl as necessary. Sift together the dry ingredients, and add them half at a time to the creamed mixture. Finally add the milk with the motor running. Divide the mixture between the cake pans and smooth the surface of each.
Bake for 30–40 minutes until a skewer inserted into the center comes out clean. Run a knife around the sides of each cake and leave to cool. When the cakes are cold, remove the sides and slit each one in half using a bread knife. To make the blackout, process one of the top halves to crumbs in a food processor—if possible, choose the one that has risen unevenly.
To assemble the cake, spread one of the bases on the pan base with one quarter of the frosting, taking it almost to the rim. Sandwich with the second cake base and spread another quarter of the remaining frosting over the surface. Top with the remaining layer of cake and use the remaining frosting to coat the top and sides.
To finish, liberally coat the whole thing with the cake crumbs. Chill the cake for a couple of hours and then cover with plastic wrap. Remove from the fridge 15–30 minutes before eating.
Matt And Ted Lee's Caramel Cake Recipe
Banana Bread Pudding Cake Recipe
Clementine Meringue Cake With Rosemary Recipe