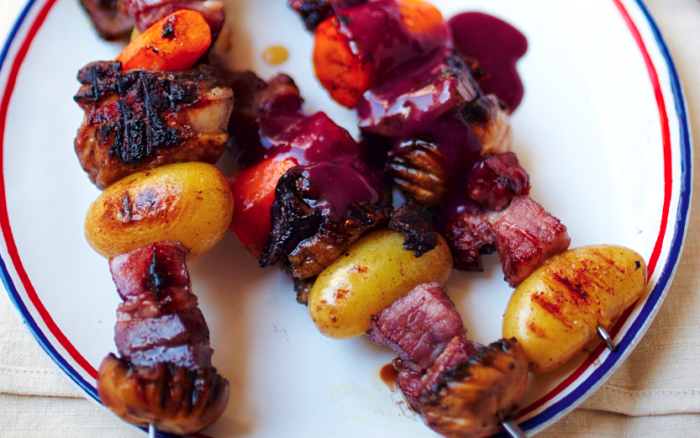 A common misconception about French cuisine is that you yourself can't cook it. Completely false, as we've learned by cooking our way through The Little Paris Kitchen. In fact, many French dishes are a great jumping-off point for creating your own version of the classics. Take, for instance, these coq au vin skewers.
Says author Rachel Khoo:
"Rooster stewed in red wine for several hours is traditional coq au vin. I thought I'd shake that on its head and make a barbecue version with a red wine dipping sauce."
Ingredients
8

barbecue skewers, soaked in water for at least an hour if bamboo

1 1/2

pounds

boned chicken legs*, with skin on

5

ounces

lardons or cubes of smoked bacon

2

large carrots, cut into large chunks

8

small

new potatoes

8

small

button onions, peeled and left whole

1

tablespoon

red wine vinegar

1

tablespoon

cornstarch

1

tablespoon

sugar

Salt and pepper

8

small

button mushrooms, brushed or peeled

1

tablespoon

olive oil
Marinade
2

garlic cloves, finely chopped

1

onion

finely chopped

2

tablespoons

butter

4

small sprigs

thyme

3

bay leaves

2

cups

red wine
Directions
For the marinade:
Fry the garlic and onion in the butter until golden brown. Add the thyme and bay leaves and cook for another minute before adding the wine. Bring to a boil and simmer for 10 minutes. Leave to cool.
For the chicken:
Cut the chicken into large chunks, place in a large plastic container with the lardons and add the cold marinade. Cover and marinate in the fridge for at least 4 hours (best overnight).

Lift the chicken and lardons out of the marinade, then strain through a sieve. Measure 1 1/4 cups marinade, pour it into a pan and set aside. Put the carrots, potatoes and onions into a large pan of cold salted water and bring to a boil. Parboil for 5 minutes, then drain the vegetables into a sieve and hold under cold running water for 2 minutes. Leave to cool.

On a high heat, reduce the marinade by half before adding the vinegar. Mix the cornstarch to a thin paste with some water, whisk into the sauce, and boil for 5 minutes or until the consistency of heavy cream. Add the sugar and season with salt and pepper. Cover with plastic wrap, pressing it down in direct contact with the sauce. Keep the sauce warm until needed.

Thread the chicken onto the skewers, alternating with the lardons, parboiled vegetables and mush­rooms. Brush with the olive oil before cooking on the barbecue (or indoors on a griddle pan) for around 5 minutes, turning regularly. To check the chicken is cooked, cut a piece open—the juices should run clear, not red or pink. Serve with the sauce (reheated in a pan or microwave if necessary).
* Chicken legs have more flavor and tend to be juicier than breast, or you could use boneless chicken thighs (skin on) instead. Breast meat will be fine too, as long as you are careful not to overcook it.
Try out these other skewer recipes for dinner on Food Republic: