Broccoli, Smoked Mozzarella And Roasted Red Pepper Frittata Recipe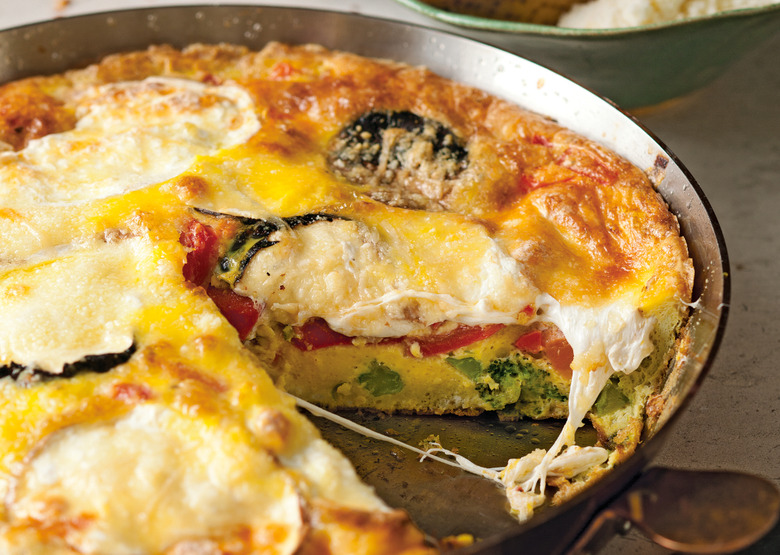 Photo: Kate Sears
We may receive a commission on purchases made from links.
Dina Cheney's Meatless All Day is an undisputable reminder that Meatless Mondays can, and shall, be awesome. Utilizing protein-rich ingredients in innovative ways — and learning to master umami —  all contribute to a supremely satisfying meal. 
Smoked mozzarella (which has a savory, meaty quality), salty Parmigiano-Reggiano, sweet roasted red peppers, and broccoli (with its vegetal and slightly bitter flavor) add up to a complex, balanced, and satisfying breakfast or brunch dish. Save the broccoli stalks for soup or salad.
Broccoli, Smoked Mozzarella And Roasted Red Pepper Frittata Recipe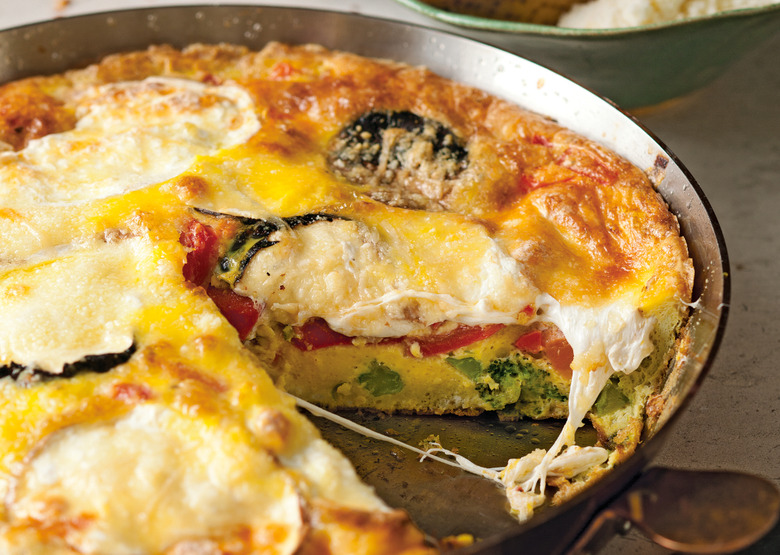 Ingredients
10 large eggs
3/4 teaspoon coarse salt
16 grinds black pepper
1/8 teaspoon crushed red pepper flakes
3 tablespoons extra-virgin olive oil
1 1/2 teaspoons garlic
3 cups 1 1/2 inch broccoli florets
1 12-ounce jar roasted red peppers
1/2 pound smoked mozzarella
1/2 heaping packed cup Parmigiano-Reggiano
Directions
Heat the oven to 375°F.
In a large bowl, whisk together the eggs, 1/2 teaspoon salt, 8 grinds pepper, and the red pepper flakes until smooth. Set aside.
Heat 2 tablespoons of oil in a heavy, nonstick, oven-proof frying pan over medium heat.
When the oil is hot, add the garlic and sauté until aromatic, about 1 minute. Immediately add the remaining oil and the broccoli (you don't want the garlic to burn).
Sprinkle the broccoli evenly with 1/4 teaspoon salt and 8 grinds pepper, and sauté until tender but still slightly firm, about 5 minutes (poke with a fork to check).
Make sure the broccoli florets are evenly spaced in one layer, and then pour in the seasoned egg mixture.
Gently shake the pan so the eggs spread evenly.
Arrange the peppers and cheeses evenly over the top of the frittata, and let it continue to cook until the edges are set, about another 4 minutes.
Transfer to the oven, and cook until the eggs are firm and the cheese has melted, about 15 minutes.
Let cool slightly, then serve straight from the pan or on a platter pepper side up.
Baked Spaghetti Frittata With Broccoli Rabe And Smoked Mozzarella Recipe
Zucchini And Onion Frittata Recipe
Pasta Frittata Recipe