Brisket Matzo Tacos Recipe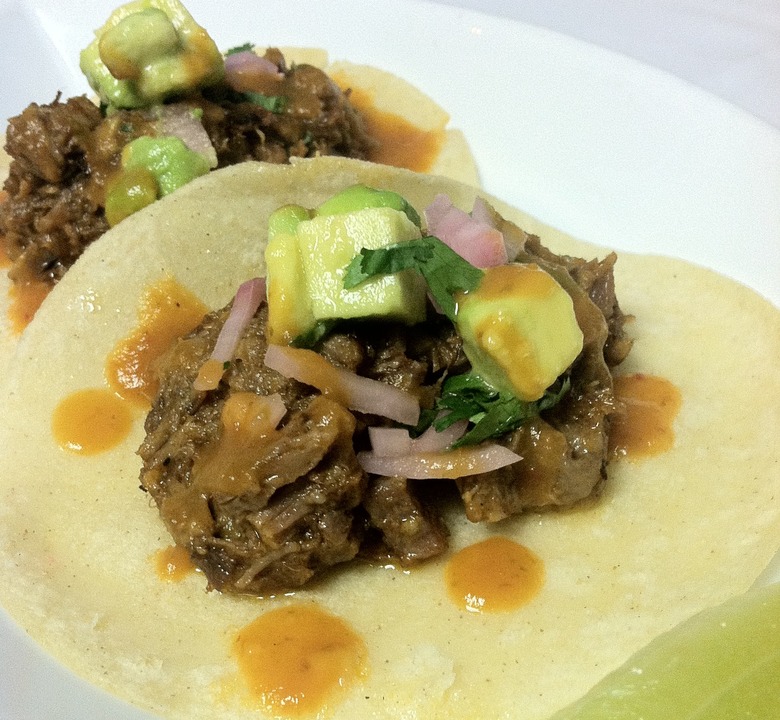 Passover is a time of year I like to try new things with my menus. I'm always sure to prepare and serve food that my guests can relate to and will remember, especially dishes for Passover as they are meant to bring back memories and flavors associated with this special holiday. It's important that the ingredients shine and also represent the traditional Latin and Mexican-inspired dishes I grew up with.
Since tacos are one of my go-to meals, I created Tacos de Brisket – my interpretation of a classic Beef Brisket (a dish you find on the table during most traditional Jewish holidays), with a Mexican twist. The tacos are served with Chipotle-braised brisket, horseradish crema, tomatillo salsa, guacamole and red onion, all wrapped in matzo tortilla. I make Kosher-for-Passover tortillas by substituting the masa for matzo.
Brisket Matzo Tacos Recipe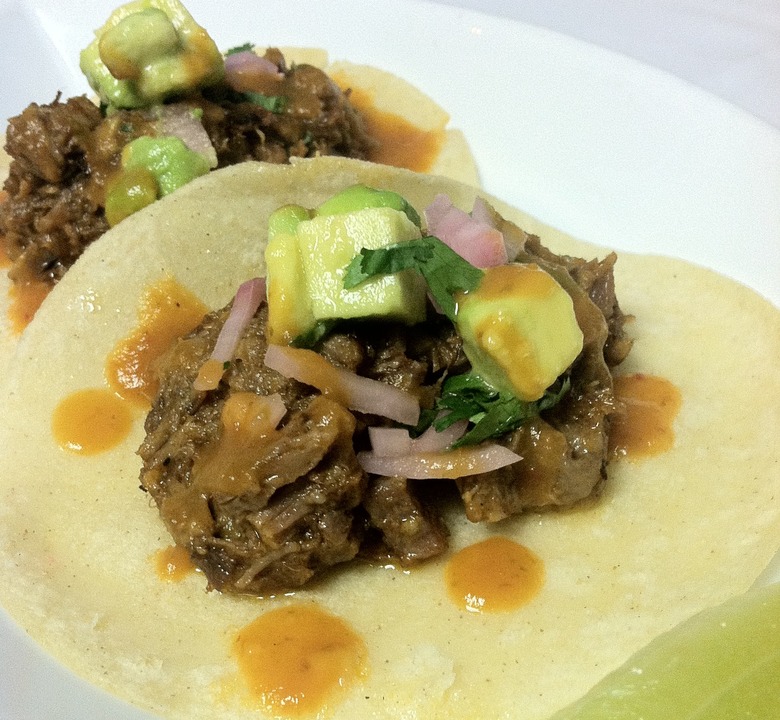 Ingredients
2 cups fine matzo meal
1 cup warm water
1 tablespoon olive oil
1 teaspoon salt
2 pounds lean brisket
1 cup celery
1 cup Spanish onion
1 cup carrots
5 garlic cloves
2 tablespoons Chipotle puree
2 cups tomato puree
5 sprigs fresh thyme
1/4 teaspoon ground cumin
1/4 teaspoon dried Mexican oregano
1 bay leaf
1 bottle Bohemia beer
1 cup water
1/4 cup canola oil
1 teaspoon black pepper
1 teaspoon kosher salt
Directions
In a bowl using your hands, work the fine Matzo meal, salt, warm water and oil very well together until a soft dough forms. With hands form 1 ½" balls, and roll between plastic wrap to form a tortilla shape.
Preheat a non-stick griddle or pan, and cook the Matzo tortillas at a medium heat.
Set oven for 325°F.
Season the brisket with cracked black pepper and kosher salt.  Ready oil in a Dutch oven on high heat, place the brisket in the pot and sear on all sides. 
When meat is browned remove from the pot and set the brisket aside, then reduce the heat under the pot.
Add to the Dutch oven pot the onions, garlic, celery, carrots, let it cook for about 5 minutes, add chipotle, tomato puree, thyme, cumin and bay leaf; sauté the ingredients together. 
Once the ingredients have cooked add the Bohemia beer and bring it to a boil for a minute.
Return the brisket to the pot and pour in the water until it covers the meat. Bring the liquid to boil, low the heat and simmer. Cover with aluminum foil and place meat in the oven for 2-3 hours, or until thoroughly cooked and tender. 
Remove from the oven, let meat rest and cool in the braising liquid. 
Once cooled, remove brisket from liquid and cut into slices, set aside. Pour the braising liquid into a blender, or food processor, and blend until smooth.
Pour the braising liquid back into the pot and re-heat over medium temperature. Return the sliced meat to the pot and let it re-heat in the sauce.
Serve two matzo tortillas per plate. Fill generously with the braised brisket, then add 1 tablespoon of tomatillo salsa, avocado and horseradish crema to top.