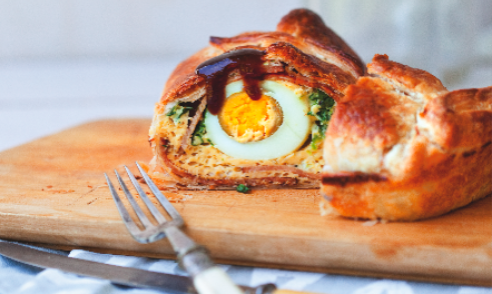 Malaysian-born MasterChef star Billy Law's cookbook Have You Eaten? is a masterful collection of rich fusion cuisine and classics alike. Up next, a recipe for breakfast pies via Britain.
Who doesn't like to be pampered with breakfast in bed? Making breakfast in bed for someone special is a wonderful gesture, but if you really want to spoil them, then put a little extra effort into breakfast with this delicious breakfast pie: bacon, eggs and buttery puff pastry. What's not to like?
Ingredients
8

short

bacon slices

2

large eggs, beaten

3

tablespoons

whole milk

handful of

chives, finely chopped

handful of

spinach, roughly chopped

Salt and pepper

1

sheet

puff pastry

2

hard-boiled eggs, peeled

1

egg, lightly beaten for egg wash
Directions
Preheat the oven to 425°F and place a baking tray on the middle rack of the oven. Cook the bacon in a frying pan over medium–high heat until lightly colored, then remove and drain on paper towel.
Put the eggs and milk in a mixing bowl, stir to combine, then stir in the chives and spinach. Season with salt and pepper.
Grease a 8 × 4 1/2 inch ceramic dish or baking dish. Line the dish with the puff pastry, gently pressing the pastry down so it fits in all the corners. Leave the pastry hanging over the rim of the dish.
To assemble, arrange 4 bacon slices in the base of the dish, then place the hard-boiled eggs on top. Pour the egg and spinach mixture into the dish, then jiggle the dish a little to get rid of any air pockets. Place the remaining bacon over the top.
Lift the pastry up from the longest sides and fold them towards the center, sealing the mixture inside. Trim off the shorter ends of the pastry, then fold them inwards and press down to seal. Decorate the dish with some of the pastry offcuts. Brush the pastry with the egg wash and then use a knife to make a few incisions in the top of the pastry, to let the steam out when baking.
Place the pie on the hot baking tray and bake for 20 minutes, then reduce the oven to 350°F and bake for a further 20 minutes, or until the pastry is light golden brown. Serve hot.
More savory brunch recipes on Food Republic: