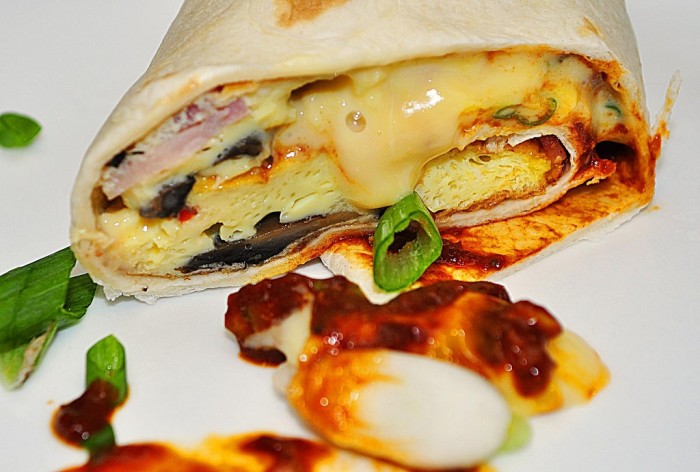 This breakfast burrito recipe offers up a quick, easy way to start your day. Here, we're using leftovers from a dinner of sausage and peppers and adding some potatoes, but this is just one way to stuff your burrito. Feel free to substitute whatever leftovers you find in your fridge, or go to the store and get creative. Veggies, cheese, chilies, green onions—just some of the items you can roll up with some eggs in a tortilla, serve with salsa, and have a delicious breakfast.
Ingredients
3

tablespoons

olive oil

1

cup

potatoes, leftover sauteed, diced

1

cup

peppers, leftover sauteed,diced

1

small

onion, diced

2

links

hot Italian sausage, chopped

8

eggs

1/4

cup

milk

8

flour tortillas, warmed

1/2

cup

cheddar cheese, grated

salsa, for topping
Directions
Heat 2 tablespoons of the olive oil in a large saute pan over medium heat. Add the onion, potatoes, peppers, and sausage and cook until the potatoes are golden, about 6-7 minutes. Transfer the mixture to a bowl.
In a small bowl, whisk together the eggs and milk. Heat the remaining tablespoon of olive oil in a large saute pan over high heat. Add the eggs and cook, stirring constantly, until set, about 2 minutes.
Place about 2 tablespoons of the egg on each tortilla and top with an equal amount of the potato, sausage and pepper, and onion mixture. Divide the cheese between each tortilla, top with salsa and fold into a burrito, and serve immediately.