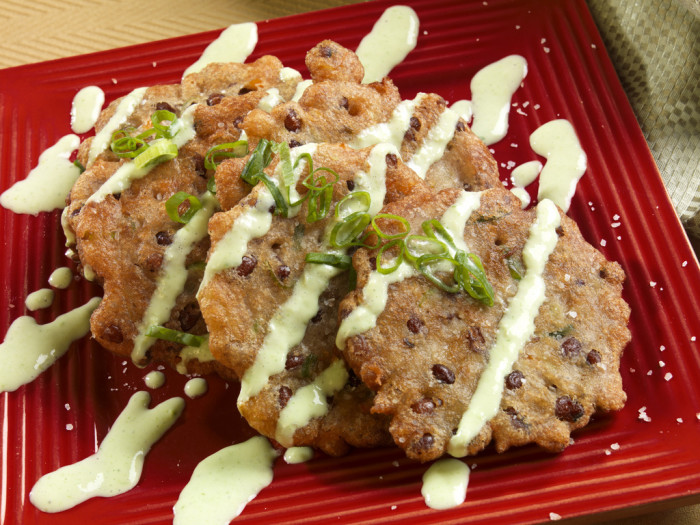 My great (late) friend, famed newspaperman Johnny Apple, has written that these fritters are found in abundance from lacey white dressed street vendors on the streets of Bahía and in particular from the colonial district called the "Pelourinho," whose very name is a reminder of harsher days; pelourinho means "flogging post" in Portuguese. These snacks are often served with a somewhat complex Brazilian sauce called vatapá but I have stuffed them with an equally delicious crab salad.
Also read: The Culture Of Caribbean Fritters
Ingredients
1

pound

dried black-eyed peas

1

red onion, peeled and roughly chopped

1

Scotch bonnet, stemmed, seeded and minced

1

ounce

dried shrimp, finely chopped (optional but authentic)

3

teaspoons

kosher salt

2

teaspoons

freshly cracked black pepper

8

ounces

cleaned crabmeat

2 1/2

tablespoons

mayonnaise

canola oil, for frying
Directions
Soak the peas in water to cover for 24 hours, changing the water once. Drain the peas and add fresh water to cover the next day.
Rub the peas between the palms of your hands to remove the outer skins. Allow the peas to settle and some of the skins will float to the top. Pull the skins from on top of the peas and drain off the water.
Blend the peas in a food processor with the onion. (Blend until it resembles oatmeal in texture).
Combine the pea mixture with the Scotch bonnet, dried shrimp, salt and pepper in a mixing bowl.
Heat a fryer with canola oil to 350º.
Using two oval spoons form some of the pea mixture into ½ ounce oval shapes.
Carefully drop them in the fryer and cook until golden, about 1 minute, turning them from time to time with a slotted spoon. Drain them on paper towels and keep them warm in a low oven as you work.
Dress the crabmeat with the mayonnaise.
Split open the "acarajé" and make a little "sandwich" out of each one by filling them with the crab mixture (1 teaspoon each).
Note: You may want to alter crab mixture with other things like mustard or chopped scallions.
More recipes with crab on Food Republic: