Braised Groundhog Recipe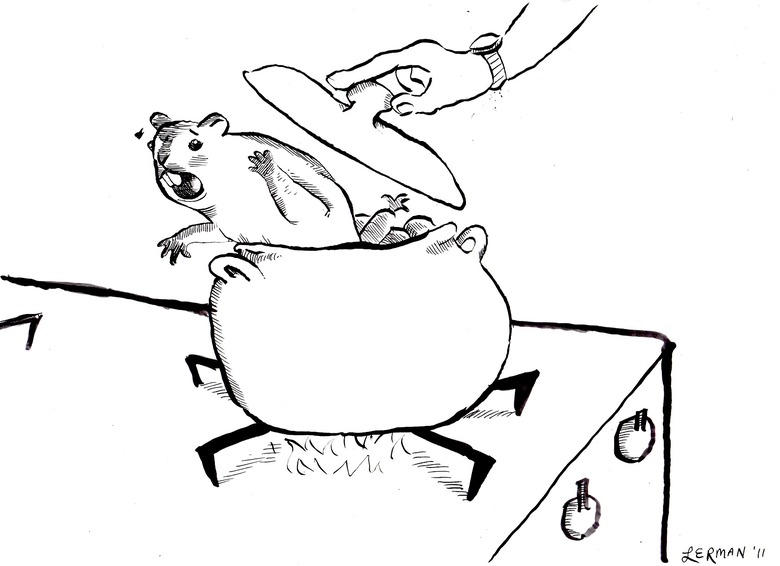 Time for a full disclosure. This is not the first groundhog I've eaten. As such, I've learned a few things along the way. Like, for instance, groundhogs have musk glands in their armpits. YOU MUST REMOVE THESE IF YOU DON'T WANT TO THROW UP FROM THE STINK OF BRAISED MUSK GLANDS AS THEY BOIL AWAY! If you have difficulty finding (or shooting) groundhog, you can substitute two rabbits or six pounds of chicken.
Braised Groundhog Recipe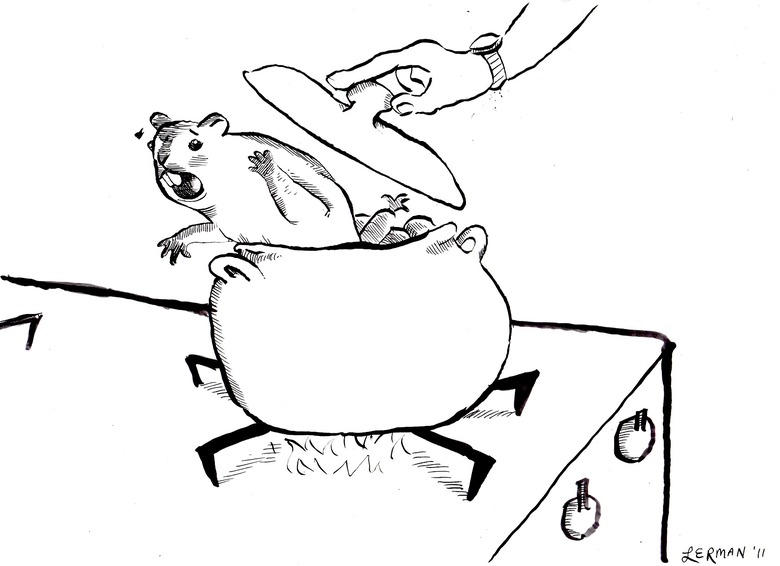 Ingredients
1 (5 to 6 pound) groundhog
2 tablespoons extra-virgin olive oil
1 3/4 cups reduced sodium chicken broth
2 medium onions
3 cloves garlic
1 teaspoon fresh thyme
3/4 stick unsalted butter
2 1/2 cups dry white wine
1/3 cup Dijon mustard
1/4 cup whole grain mustard
Directions
Rinse the groundhog pieces, remove any fat, and cut out the glands underneath the front legs and armpits, then pat the meat dry. Season with 1 tablespoon Kosher salt and 1 teaspoon pepper.
Heat the oil in a large heavy skillet, then brown the meat, in batches. This will take about 5 minutes per batch. Transfer the meat to a medium heavy pot. Reserve the skillet.
Add the broth to the pot.
Pour off any fat from skillet, then add the onions, garlic, thyme, and 3 tablespoons butter and cook over medium heat, stirring and scraping up any brown bits, until onions are softened. This will take about 5 minutes.
Add the wine and boil until the liquid is reduced by half. This will take about 8 minutes.
Pour the mixture over the groundhog. Cover the pot and bring to a gentle simmer over medium heat. Braise the groundhog until it is very tender. This will take 1 1/2 to 2 hours.
Transfer the groundhog to a serving dish and keep warm.
Bring the liquid in the pot to a boil and reduce it to about 3 cups. This will take about 10 minutes. Whisk in the mustards. Remove the pan from the heat and add the remaining 3 tablespoons butter, swirling the pot until incorporated. Season sauce with salt and pepper and pour over the groundhog.