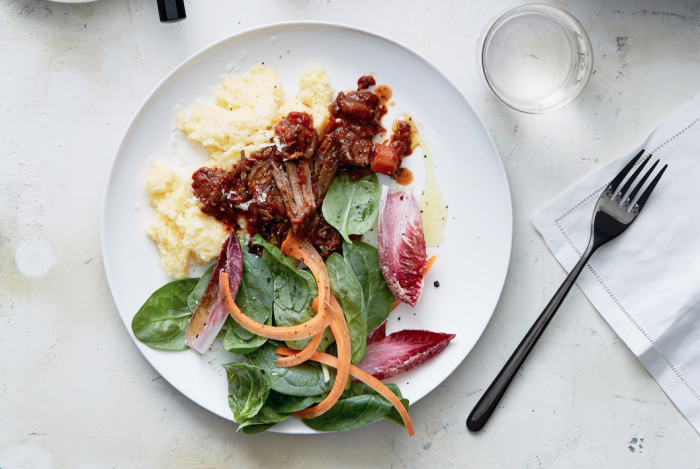 Leave it to a master of sustainability and style to author a vegetarian cookbook so chic we're hiding our bacon. Danny Seo's new recipe collection, Naturally Delicious, is an ode to all things from-scratch. They just happen to be really beautiful, too. 

Before you walk away from this braised grass-fed beef ragu with creamy polenta recipe after noting a total time of 7 hours and 15 minutes, please take a second look: You'll actually devote just 15 minutes of active time to making this luscious, filling and oh-so-good winter pick-me-up. The reason why is the good old-fashioned slow cooker. Just fill it up in the morning and walk away. And just in time for an early dinner, all you have to do is pop open a bottle of organic wine, toss a salad and there you have it: dinner.

Good to Know: Instant polenta is just as good as the long-cooked type in my opinion, so if you want to make creamy polenta in a few minutes, go right ahead.
Ingredients
Braised beef
2

tablespoons

extra-virgin olive oil

2 1/4

pounds

grass-fed round roast beef

2

teaspoons

salt

1/2

teaspoon

black pepper

1

large yellow onion, diced (about 1 1/2 cups)

12

ounces

cremini mushrooms, stemmed and quartered

4

small carrots, peeled, cut into 1/2-inch slices (about 1 1/2 cups)

3

garlic cloves, minced

1

28-ounce can

whole peeled tomatoes with juice

1/2

cup

dry red wine

3

tablespoons

tomato paste

1

teaspoon

dried basil

1

teaspoon

dried oregano

2

bay leaves
Polenta
6

cups

water and/or broth

1 1/2

cups

yellow cornmeal

1

teaspoon

salt

3

tablespoons

grated Parmesan

2

tablespoons

chopped fresh parsley
Directions
For the ragu
Prepare the beef. In a large skillet, heat the olive oil over medium heat. Season beef with salt and pepper, and add it to the skillet, browning on all sides, about 5 minutes per side.

In a 4-quart slow-cooker, combine the onion, mushrooms, carrots, garlic, tomatoes, wine, tomato paste, basil, oregano and bay leaves; nestle browned beef into the mixture. Cover and cook on low heat for 7 hours.

Allow the meat to rest for 1 hour.

While the meat is resting, prepare the polenta. In a medium pot, bring water to a boil with the salt. While continually whisking, gradually stir in cornmeal. Continue to stir for 5 minutes to smooth out any lumps. Lower the heat, cover, and simmer until creamy and cooked through, 40-45 minutes.

Transfer beef to a large cutting board. Using two forks, shred beef and stir into the sauce.

Stir the Parmesan into the polenta. Serve immediately, with the meaty saucy, sprinkled with the parsley.