Braised Fennel Wedges With Saffron And Tomato Recipe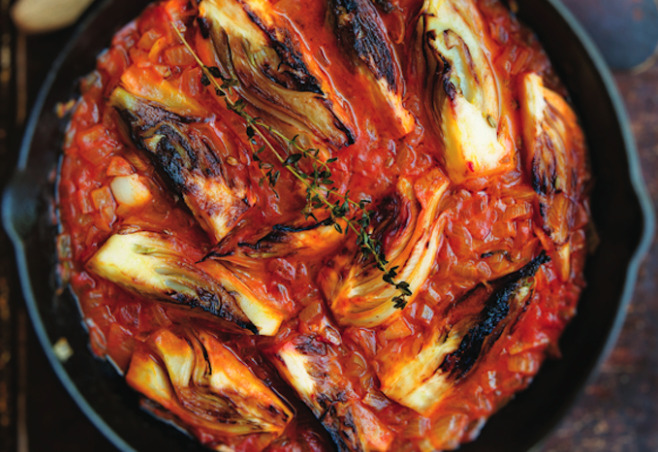 Pair these braised bulbs with either seafood or rice. It goes nicely with both.
We may receive a commission on purchases made from links.
We were very excited to receive Deborah Madison's new cookbook, Vegetable Literacy, because a Deborah Madison cookbook means good vegetarian food is about to hit the table. Like, really good. Don't miss the meat good. First up, a hearty braised fennel dish that doesn't have to hang out on the sidelines.
Fennel is a natural with seafood, so you might pair this dish with halibut or seared scallops. But it's also good with rice, and black rice makes for an especially dramatic — and delicious — pairing. Be sure to leave the core in the fennel bulb. It's what holds the wedges together.
Braised Fennel Wedges With Saffron And Tomato Recipe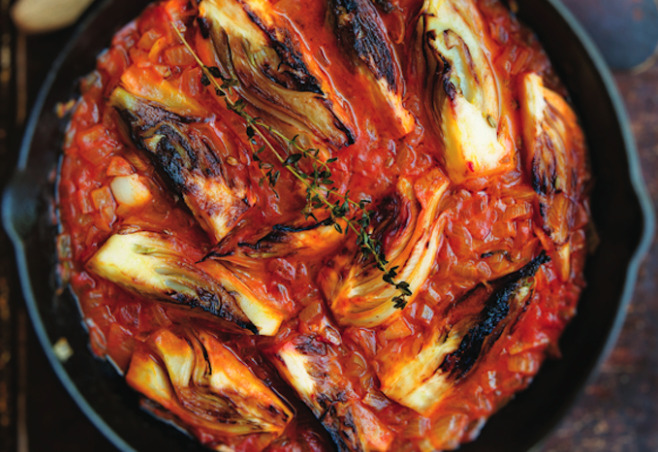 Ingredients
2 large fennel bulbs
3 tablespoons olive oil
1 onion
2 teaspoons fennel seeds
good pinch of saffron threads
1/2 teaspoon dried thyme
1 garlic clove
3 tablespoons tomato paste
1 1/2 cups fennel stock
sea salt
1 tablespoon butter
freshly ground pepper
minced fennel greens or fresh flat-leaf parsley
Directions
Trim off the stalks and greens from the fennel bulbs. (Mince the greens for a garnish. If there are none, you can use parsley.) If the outer thick leaves of the bulbs look tough and scarred, as they often do, take a slice off the base to loosen them and set them aside for another use.
Halve each bulb lengthwise and cut the halves into wedges about 1 1/2 inches at the widest part.
Heat the olive oil in a wide sauté pan over medium-high heat. When hot, add the onion and fennel seeds, crumble in the saffron and thyme and then cook until the steam releases the color from the saffron, after several minutes.
Add the fennel wedges and cook them until golden, turning them and the onions occasionally. Once they are well colored, add the garlic, stir in the tomato paste and then add the stock and 1 teaspoon salt.
Scrape the pan to release the juices, then cover and simmer until the fennel is tender, another 15 minutes.
Fennel, Artichoke And Potato Tagine Recipe
Fennel Gratin Recipe
Raspberry Poached Apples With White Chocolate And Fennel Cream