How To Make Juhu Beach Club's Bombay Sandwich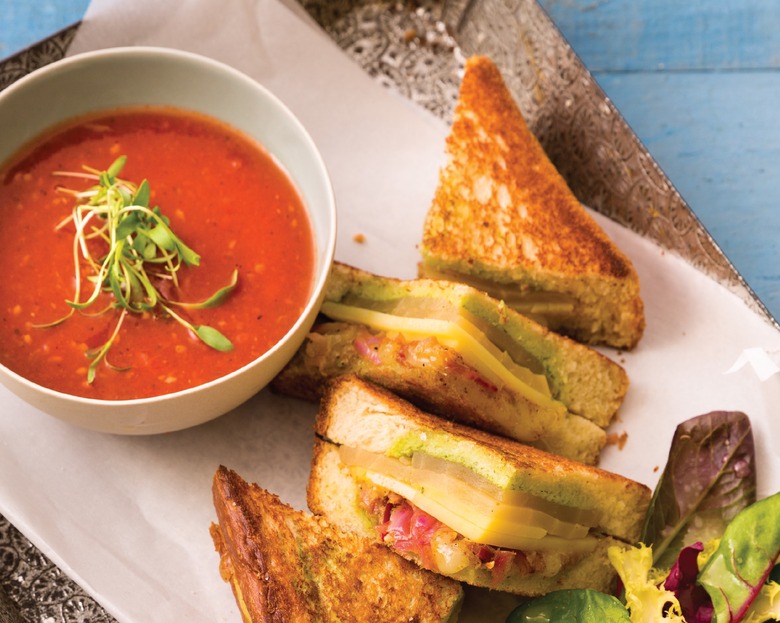 We may receive a commission on purchases made from links.
Preeti Mistry helms the kitchen at Oakland, CA's Juhu Beach Club. The modern Indian restaurant models its menu on the popular cuisine of Mumbai. Whether you go for the city's famous fine dining, even more famous street vendors or a delightful combination of both, there's no wrong choice to make. Every city has a sandwich, and Mumbai is no exception. Check out Juhu Beach Club's Bombay sandwich and kick that boring old hummus and veggie deal to the curb.  
A sought-after street food sandwich, this dish is also served in many Bombay (Mumbai) cafes. It is an adult-friendly, Indian-spiced grilled cheese that is in many ways more than the sum of its parts: cheese, beets, chutney, potato, pickled onions and chaat masala. It takes many of our Indian customers back to the streets of Mumbai in a few bites. At JBC we serve this sand­wich with our tomato shorba — like the classic American combo of grilled cheese and tomato soup. Only our version has a few more bells and whistles and a bigger flavor kick. A panini press is helpful here; or use a saucepan lid to press the sandwich on the stove.
How To Make Juhu Beach Club's Bombay Sandwich
Check out Juhu Beach Club's Bombay sandwich, an iconic snack, and kick that boring old hummus and veggie deal to the curb.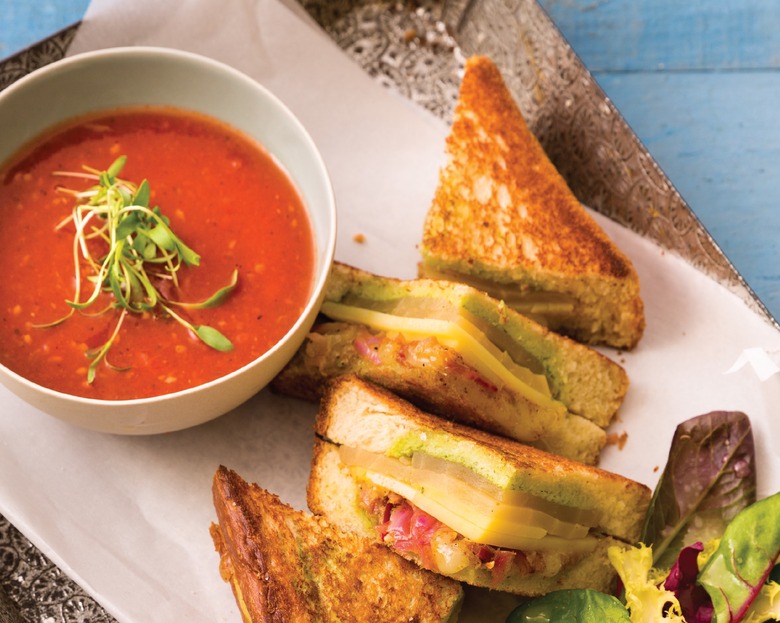 Ingredients
1 medium gold beet
1 tablespoons netural oil
1 medium Yukon Gold potato
1 loaf white Pullman bread or Pan di Mie
3 cups grated Monterery Jack cheese
1/2 cup ghee
1 lemon
1/4 cup ginger
1 tablespoon serrano chiles
1/3 cup whole plain yogurt
2 cups packed, roughly chopped cilantro
2 teaspoons salt
3 large red onions
2 lemons
2 limes
1 tablespoon salt
2 tablespoons black salt (kala namak, as it's called in Indian grocery stores)
3/4 cup Sloppy P Masala
1/4 cup Indian red chili powder
2 pounds unsalted butter
Directions
:::chaat masala:::
Mix well with ground spices and keep in an airtight container for up to 4 weeks.
:::onions:::
Toss the onions with the citrus juices and salts. Set aside in a sealed plastic container in the refrigerator for at least 6 hours. Shake the container every couple of hours to keep juice well distributed throughout the mix. The onions will turn bright red and taste slightly milder than raw, unpickled onions. Keep them refrigerated in an airtight container for up to 1 month.
:::chutney:::
In a blender combine lemon juice, ginger, chile and yogurt. Purée until ginger and chiles are fully integrated into a thick paste. Add the cilantro, using a rubber spatula to submerge the leaves into the purée. Blend again. Stop the blender and push the cilantro down a second time, if needed, to fully purée the ingredients. Season with salt.
:::sandwich:::
Preheat the oven to 350°F. Scrub the beet to remove any excess dirt. Place the beet in a small oven-safe pan and drizzle it with oil. Season the beet lightly with salt and fill the pan about a 1/2 inch from the bottom with water. Cover tightly with aluminum foil and roast it in the oven for about 40 minutes, or until the beet is fully cooked and easily pierced with a small paring knife. When the beet has cooled, peel and thinly slice into rounds. Set aside.
Scrub the potato, place in a small saucepan, and fill the saucepan with cold water to cover. Place the pan on high heat and bring the water to a boil. After the water boils, lower the temperature to medium and continue to simmer until the potato is just cooked through — about 7 to 10 minutes. Remove the pan from the heat and remove the potato from the water with a spoon or tongs. Let the potato cool fully on a sheet pan at room temperature. Then peel the potato and thinly slice it into rounds. Set aside.
Slice the bread into 12 equally thick slices. (Save the bread ends for breadcrumbs). Drizzle each slice with a tablespoon of cilantro chutney. Build the vegetables on half the slices starting with a layer of beets, followed by potatoes, and then top with a tablespoon of pickled onions spread across the potato. Sprin­kle a 1/2 cup of cheese on the other half of the bread slices.
Heat the oven broiler to high. Place the bread slices open faced on a sheet pan. Sprinkle each slice with about 1 tablespoon chaat masala and a pinch of salt. Place the pan under the broiler until the cheese is fully melted — about 3 minutes. Remove from the broiler and place each melted cheese bread slice on top of a vegetable bread slice.
Heat a nonstick sauté pan or griddle to medium. Brush both sides of the sandwiches with ghee and place them on the pan or griddle. Use a steak press or saucepan lid to press down on each sandwich. When the bottom of a sandwich is well browned and toasted, flip and repeat until both sides are browned. Alterna­tively, simply place each sandwich in a panini press. Remove from heat, cut into triangles, and serve warm.