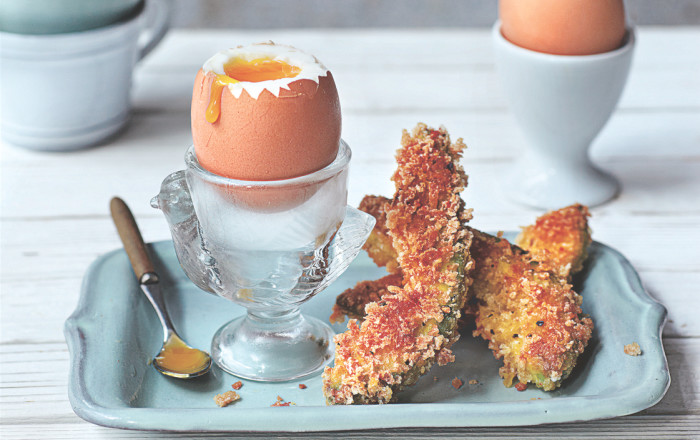 Celebrate one of the most popular items in the produce aisle with food writer and editor Lucy Jessop's new cookbook, The Goodness of Avocado. The title says it all, but peek inside and find delicious ways to spin this green gold. Make boiled eggs with crispy avocado — it's a pairing made in smooth, crunchy breakfast heaven.
These melt-in-the-mouth avocado fries bring a whole new dimension to boiled eggs. Crispy on the outside and beautifully buttery in the center, they are just perfect for dipping into a hot, runny yolk. Use vegetarian hard cheese to make this vegetarian.
Tip: To cook the crumbed avocado fries with less fat, you can bake them on a baking sheet lined with parchment paper in a preheated oven (425°F) for 10 minutes.
Ingredients
1

firm but ripe avocado

1/4

cup

all-purpose flour

1/4

teaspoon

paprika or cayenne pepper

1/2

teaspoon

fine salt

3

eggs

1/2

cup

Japanese-style panko breadcrumbs

1/4

cup

finely grated Parmesan cheese or vegetarian hard cheese

vegetable oil, for frying
Directions
For the eggs and fries
Take three plates and place them next to each other. Put the flour, paprika or cayenne pepper, and salt onto the first plate. Crack one egg onto the second plate and lightly whisk, then put the breadcrumbs, Parmesan and some seasoning onto the final plate and mix well.

Take a slice of avocado and gently toss in the flour to coat, then dip in the beaten egg and finally turn in the breadcrumb mixture until evenly coated. Repeat with the remaining slices.

Pour enough oil into a nonstick frying pan to cover the base. Set over medium heat for a few minutes. When hot, add the crumbed avocado slices in batches and cook for 1 to 2 minutes each side until crisp and golden. Transfer to a plate lined with paper towels. If you're not sure if the oil is hot enough, test with a small piece of bread. The bread should sizzle on touching the oil and turn golden after a minute or so.

When the avocado is almost done, put the remaining eggs into a pan of cold water. Bring to a boil, then set the timer and simmer for 3 minutes. Remove immediately and place in egg cups or small ramekins. Use a knife to slice off the top of each egg. Serve a few crispy avocado slices with the soft-boiled eggs to dip in.