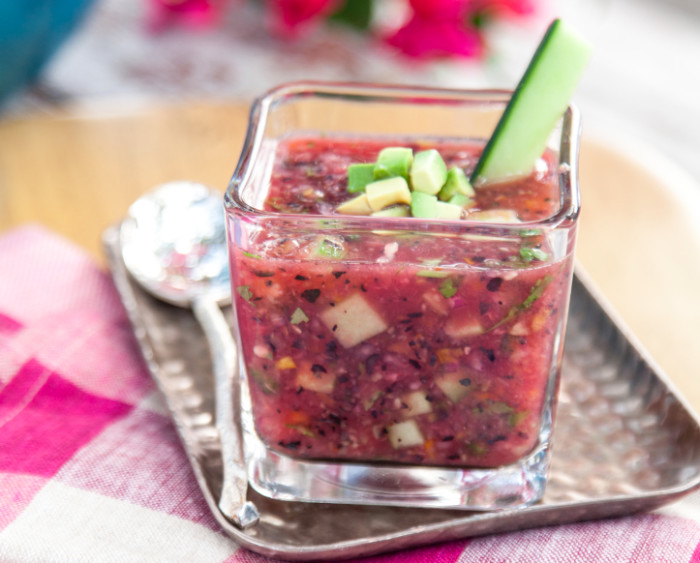 If you're going to eat light, make sure it packs tons of flavor so you don't get to the end of your meal wearing a sad face. Miami-based chef and TV personality Ingrid Hoffman's Latin D'Lite is full of recipes with bold vibrant flavors that won't weigh you down. Her gazpacho packs a hefty serving of cool fruit with just enough acid to make it a truly refreshing appetizer or dessert.
Ingredients
5

cups

seedless watermelon, cut into 1/4 inch dice

1 1/2

cups

fresh blueberries, seeded and cut into 1/4 inch dice

1

medium

cucumber peeled, seeded and cut into 1/4 inch dice

1/3

cup

red wine or fruit infused vinegar

1/2

cup

cilantro, basil or mint leaves, chopped

1

small

jalapeno, seeded and minced

1/2

medium

red onion, chopped

1/2

medium

yellow bell pepper, seeded and chopped

Kosher salt and freshly ground black pepper

1

ripe

Hass avocado, peeled and cut into slivers
Directions
Pureé 4 cups of the watermelon, the blueberries, half of the cucumber, and the vinegar in a blender or food processor.
Add all but 1 tablespoon of cilantro with the onion, yellow pepper, and as much jalapeño as you like, and process until finely chopped.
Pour into a bowl and stir in the remaining watermelon and  cucumber. Season with salt and pepper, if desired.
Cover and refrigerate until chilled, at least 2 hours and up to 5 hours.
Ladle into bowls and sprinkle with avocado and remaining cilantro. Serve chilled.