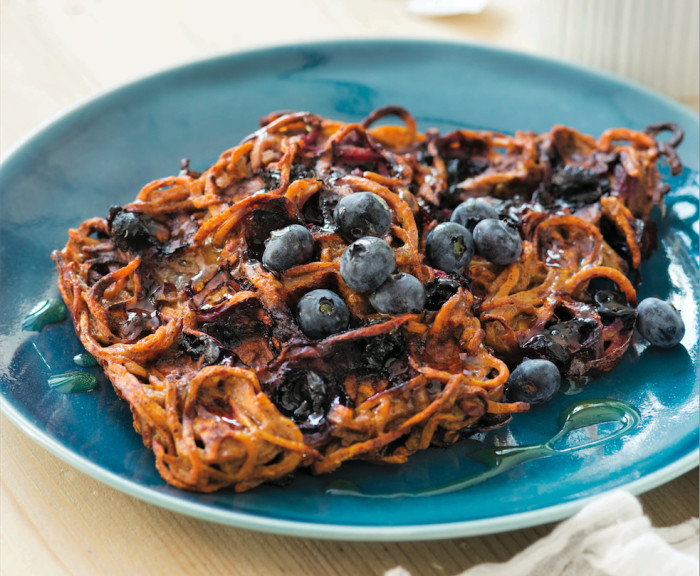 These waffles are as clean eating as it gets. When you take your first bite, you will taste the plump blueberries, spicy cinammon, and soft sweet potato. Instead of using flour, sugar, and butter — or worse, something frozen in a box — try this recipe. While they don't have the fluffiness of traditional waffles, they do offer an interesting texture, and the natural sugar in the sweet potatoes gives them a special sweetness. With warmed blueberries and maple syrup to accompany them, these waffles are sure to become a brunch favorite.
Reprinted with permission from Inspiralized: Turn Vegetables into Healthy, Creative, Satisfying Meals
Ingredients
1

medium sweet potato, peeled and spiralized with BLADE C

1

teaspoon

ground cinnamon

Cooking spray

1

medium egg, lightly beaten

1/2

teaspoon

vanilla extract

1/2

cup

fresh blueberries

1

tablespoon

maple syrup, or to taste
Directions
Preheat a waffle iron. Place the spiralized sweet-potato noodles in a bowl and toss them with the cinnamon. Place a large skillet over medium heat and coat with cooking spray. When water flicked onto the skillet sizzles, add the seasoned sweet potato noodles and cover. Cook for 5 to 7 minutes or until the noodles have completely softened.
Transfer the noodles to a large bowl and add the egg, vanilla and blueberries. Toss gently to combine until the noodles are coated, taking care not to break them.
Coat the waffle iron with cooking spray and carefully pour in half of the noodle mixture, taking care to fill all the cavities with noodles. Cook the waffle following the manufacturer's instructions. When the waffle is done cooking, transfer to a plate and keep warm while you make the second waffle. Drizzle a bit of maple syrup over each and serve.
More waffle recipes on Food Republic: