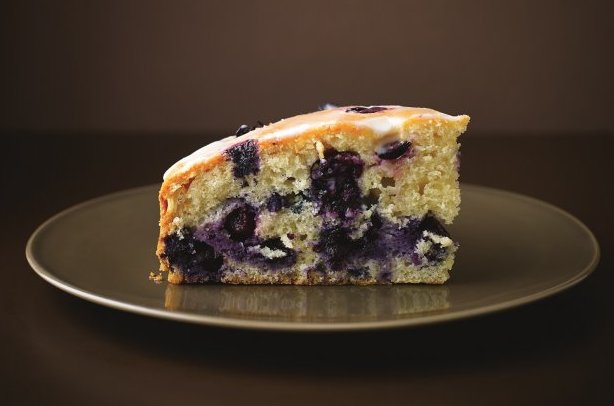 We're working our way through British chef and baking empress Lorraine Pascale's new book, A Lighter Way To Bake. If you're itching to break out the stand mixer, go forth without guilt. This blueberry and limoncello drizzle cake is the perfect partner for your cold drink of choice.
I was talking to the lady from the management company I'm with, the very gorgeous Nicola, about my forthcoming book (this one) and she said to me, and I remember this quite clearly, "A baking book is not a baking book without a good lemon drizzle cake in, don't you think? You have a good one in there, don't you?" Having handed in the book already without a drizzle cake recipe, I quickly cobbled this one together with what I feel are very pleasing results. Nicola, my love, this one is for you.
Ingredients
spray oil

5

tablespoons

sugar

8

tablespoons

unsalted butter, softened

1/2

cup

plain full-fat Green yogurt

2

eggs, lightly beaten

2

cups

self-rising flour

4

egg whites

2

teaspoons

baking powder

1/2

teaspoon

vanilla extract

finely grated zest of 2 unwaxed lemons (if waxed, wash them in hot, soapy water and dry them to get rid of the wax before using)

7

ounces

blueberries

1/4

cup

confectioners' sugar, sifted

2

tablespoons

limoncello (or lemon juice for an alcohol-free version)
Directions
Preheat the oven to 325°F and set the rack in the middle.
Spray an 8-inch springform pan with oil, line the bottom with baking parchment and then set it aside on a baking sheet.
Put the sugar, butter and yogurt into a large bowl and beat like mad with a whisk until well combined. An electric mixer would be great for this job, otherwise get your whisk, roll up your sleeves and just go for it. This mix is not going to go all light and fluffy and pretty like its full-fat cousin, but you are just looking for some semblance of uniformity (it will have quite a few little lumps in, but that is okay).
Next, add the whole eggs and half of the flour and beat for a good few minutes, until the mixture is well blended and starts to look a little smoother.
Whisk the egg whites until light and frothy, then fold them into the mixture with the rest of the flour, the baking powder, vanilla extract and lemon zest and beat until you have a smooth batter.
Finally, stir half of the blueberries through.
Pour the mixture into the pan and smooth it down evenly with the back of a spoon.
Arrange the remaining blueberries, flat side down, on the top in a few lines across the center.
Pop into the oven for about 25–30 minutes, until a knife inserted into the center comes out clean. The top should be quite a light golden brown and the sponge will feel firm to the touch.
Meanwhile, to make the topping, put the confectioners' sugar into a small bowl.
Stir in the limoncello (or lemon juice) to make a smooth, runny mixture and set aside until ready to use.
Once the cake is cool, place it on a serving platter or cake stand.
Slowly spoon the topping all over the sponge and allow it to pour over the edges beautifully.
Cut into 12 wedges and serve! If making in advance, keep it in the fridge.
Find more drizzle cakes on Food Republic: