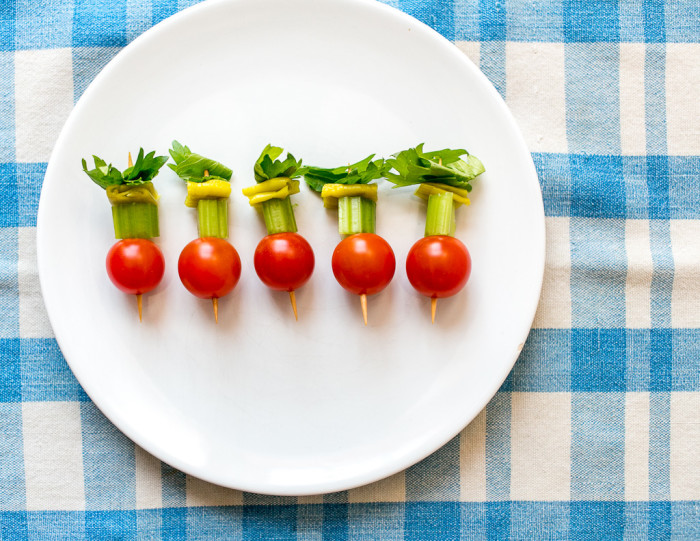 What better appetizer to serve at a cocktail party than a cocktail within an appetizer? These Bloody Mary Bites combine the best of your favorite brunch cocktail with all its best accoutrements on one handy little toothpick.
A flavor injector is necessary here, unless you're looking to make Virgin Mary Bites, which is also cool. Choose one with the thinnest needle possible and inject into the fibrous little stem base on top right before you insert the toothpick to keep the vodka nice and contained.
Use our handy guide to making chili-infused tequila and sub in vodka. Or keep the tequila and make the very first batch of Bloody Maria Bites. I'm a proponent of physically attractive booze-filled appetizers, not semantics.
Ingredients
1

pint

cherry tomatoes

chili-infused liquor

1

large rib

celery, leaves reserved, cut into even 1/2-inch dice

10

large

pepperoncini, stemmed, seeded and cut into thirds
Directions
Carefully inject a cherry tomato through the stem base with a small squirt of liquor, then immediately skewer the tomato through a toothpick and slide towards the bottom.
Top with a cube of celery, then a slice of pepperoncini, and finally a small sprig of celery leaves. Repeat until all ingredients have been used.
Refrigerate until ready to serve.
More on the Bloody Mary at Food Republic: