Keep It Raw With This Bloody Caesar Gazpacho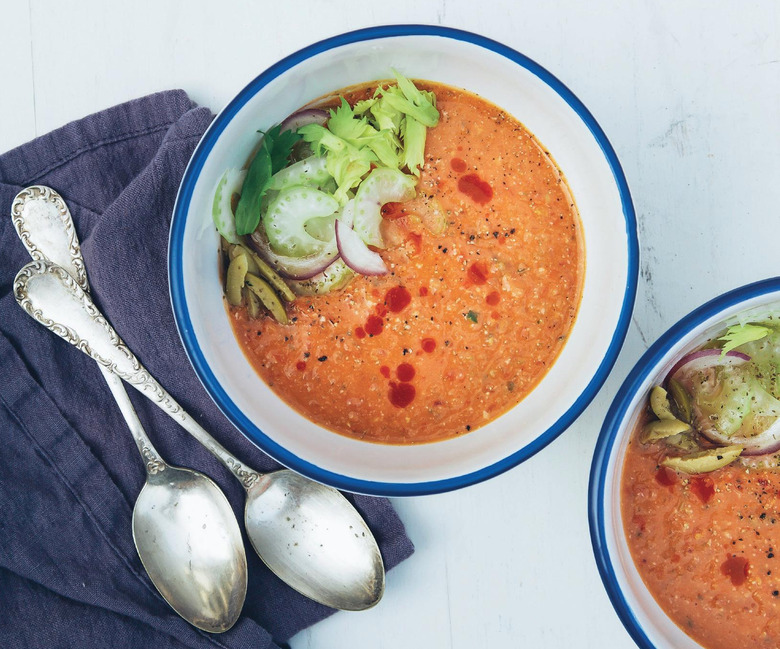 We may receive a commission on purchases made from links.
Award-winning food blogger Laura Wright has a new collection of vegan recipes out that will reinvigorate your entire cooking game. Imagine a vibrant plant-based diet that satisfies and delights, then whip up her healthy, imaginative and flavor-packed fare at home. This bloody Caesar gazpacho is a fresh spin on a beloved warm weather dish. 
This is my playful take on the popular Canadian brunch drink (very similar to a Bloody Mary). It has all the savory flavor of a Caesar but packaged into a summery lunch course. As with the actual cocktail, garnishes are very important here. Tomato gazpacho always has a V8 vibe to me, so I try to keep some texture within the soup itself and include whole elements on top to distinguish it from vegetable juice.
Keep It Raw With This Bloody Caesar Gazpacho
Award-winning food blogger Laura Wright has a new collection of vegan recipes out, like this refreshing Bloody Caesar Gazpacho.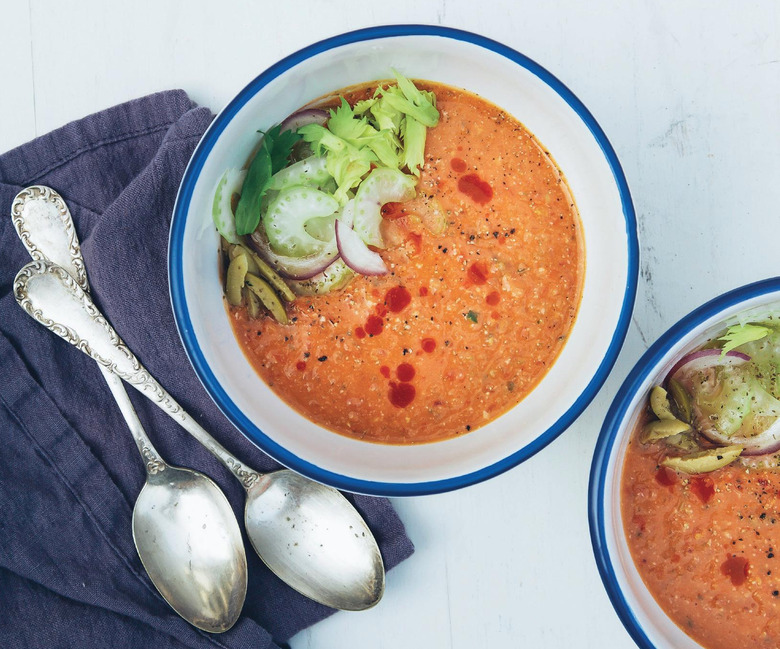 Ingredients
6 cups chopped ripe tomatoes
1 small red onion
1 English cucumber
2 stalks celery
2 cloves garlic
Fresh chili pepper
2 teaspoons celery salt
1/3 cup raw almonds
2 tablespoons red wine vinegar
1/3 cup virgin olive oil
Vegan gluten-free Worcestershire sauce or gluten-free tamari soy sauce
hot sauce, such as Tabasco
freshly ground black pepper
thinly sliced celery
thinly sliced red onion
lime wedges
pitted green olives
Additional hot sauce
Directions
In a large bowl, toss together the chopped tomatoes, red onions, cucumber, celery, garlic, chili, if using, and celery salt. Cover the bowl with plastic wrap, and let it sit at room temperature for 1 hour.
Uncover the vegetables and transfer them to the bowl of a food processor. Pour all the marinating liquid from the bowl into the food processor as well. Drain the almonds and add them to the food processor. Run the motor on high until the vegetables and almonds are puréed. Reduce the speed to low, and drizzle in the red wine vinegar and olive oil. Stop the machine when you have a smooth mixture.
Run the gazpacho through a fine strainer into a large bowl. Season with vegan Worcestershire sauce, hot sauce, and black pepper.
Store the gazpacho, covered, in the refrigerator until ready to serve with the garnishes. The gazpacho will keep in the refrigerator for up to 5 days.