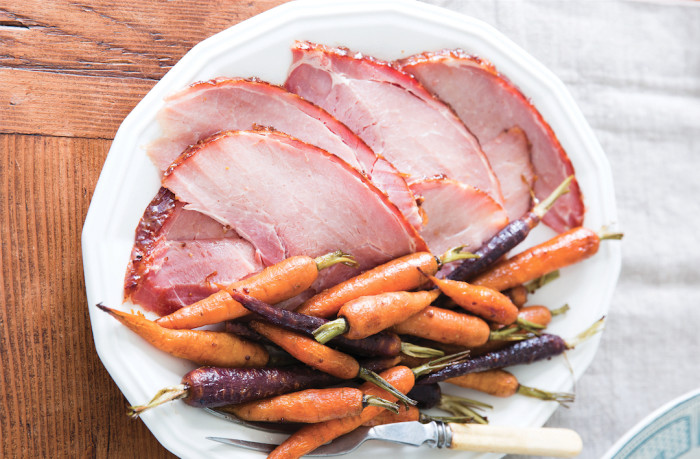 Holiday season should be about being together and enjoying spectacular food, not worrying about who can't/won't eat what. New York Times best-selling cookbook author Danielle Walker brings her signature style of everyone-friendly cuisine to the feast season with Against All Grain Celebrations. Her blood orange and honey-glazed ham is the perfect meal for a big crowd.

I associate glazed ham with Easter after years of my family ordering honey hams wrapped in gold tinfoil that we picked up from the local store. If your family usually enjoys ham on Thanksgiving or Christmas, this recipe will work wonderfully for those holidays, as well. My favorite part about a large glazed ham is using it for leftovers throughout the rest of the week, so this recipe intentionally yields more than 8 servings.

Make It Ahead: Make the glaze 3 days in advance and store it in an airtight container in the refrigerator. Reheat the glaze in a saucepan over low heat.

Season the ham and place it in the roasting pan, covered with plastic wrap, in the refrigerator the night before. Clean and trim the carrots up to 2 days in advance and store them in a bowl of water, tightly covered, in the refrigerator. Alternatively, bake and slice the ham the morning of the brunch and spoon the juices onto the bottom of a platter. Arrange the ham and carrots on top, then cover and leave at room temperature for up to 2 hours. Reheat in a low oven just prior to serving.

Reprinted with permission from Danielle Walker's Against All Grain Celebrations
Ingredients
1

8- to 10-pound

bone-in, skin-on smoked uncured ham

sea salt and freshly ground black pepper

1/2

cup

ghee, grass-fed unsalted butter or coconut oil

Finely grated zest and juice of 3 blood oranges

1/2

cup

light-colored raw honey

1/4

cup

whole-grain mustard

8

fresh sage leaves

1/4

teaspoon

ground cloves

1/4

teaspoon

ground cinnamon

2

pounds

baby carrots, cleaned and trimmed

1

blood orange, sliced, for garnish (optional)
Directions
For the ham
Preheat the oven to 300°F.

Using a sharp knife, score the skin and fat of the ham in a 2-inch diamond pattern. Place the ham fat-side up on a roasting rack in a roasting pan. Season the meat generously with salt and pepper. Bake the ham for 1 1⁄2 hours.

Meanwhile, make the glaze. Combine the ghee, orange juice, orange zest, honey, mustard, sage, cloves, and cinnamon in a small saucepan. Simmer for 30 minutes, or until the mixture has thickened into a syrup.

Increase the oven temperature to 350°F and remove the roasting pan. Season the carrots with salt and pepper and scatter them around the bottom of the roasting pan. Baste the ham with the glaze and return the pan to the oven. Bake for another 30 minutes, basting occasionally, until a meat thermometer inserted into the center of the ham reads 135°F and the carrots are tender.

Transfer the ham to a cutting board, cover, and let it rest for 20 minutes before carving. Serve the carrots on the side and place slices of blood orange decoratively around the platter for garnish.