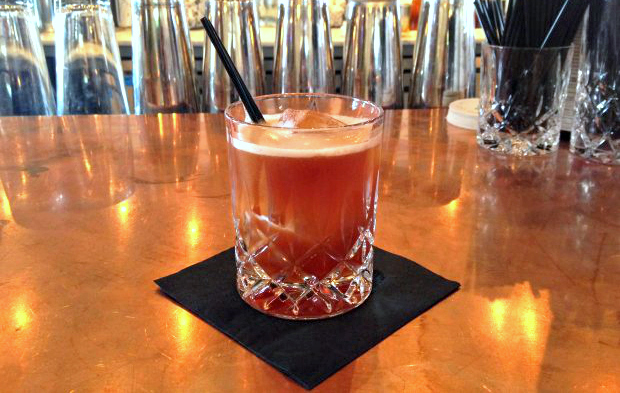 Not every bar gets to hand-pick their own spirits straight from the distillery to make their house cocktails. At Pinewood Social, a recently opened restaurant, cocktail bar, coffee bar and bowling alley in Nashville, barrels of Corsair Distillery's well-known "Triple Smoke" whiskey are selected and custom-crafted for beverage manager Matt Tocco. Then they're bottled at cask strength: 135 proof.
Related: A New Tennessee Whiskey
The result from the bottle is what Tocco deems a "big smoky-ass whiskey." Comparatively, it's nowhere near the smoke level of the heavily-peated Islay single malt Laphroaig on the nose, but instead a lighter, complex char that does get bulldozed by the intense alcohol. It's perhaps too intense to drink neat, but perfect for blending in cocktails.
For the menu at Pinewood Social, Tocco decided to steer clear of a spirit-forward stirred cocktail, and instead did a take on the classic Blood and Sand, which around since the early 1920s and historically combines equal parts Scotch, vermouth, Cherry Heering and orange juice. To balance out the smoke in the spirit and not let it overwhelm, Matt adds lemon and sugar, making this variation feel similar to another modern classic, the Penicillin.
In the end, Tocco balances the intensity of the "Triple Smoke" perfectly, giving the sometimes-saccharin Blood and Sand a drier, more pleasurable character. Just as many restaurants form strong bonds with their farmers, it's great to see a restaurant and distillery come together in this way. Given the limited production of this whiskey, the drink won't be on the menu forever, so I hope you get to try the original article from the team at Pinewood in Nashville, or find the means to make it yourself. Enjoy.
Ingredients
3/4

ounce

Corsair Triple Smoke 'Strategic Hospitality' Single Barrel

3/4

ounce

Cherry Heering

3/4

ounce

Punt e Mes

3/4

ounce

orange juice

3/4

ounce

lemon juice

1/4

ounce

Demerara syrup (2:1)
Directions
Combine all ingredients into a shaker tin and shake vigorously for 10 seconds.
Strain into a chilled rocks glass with a large cube of ice. No garnish.
Check out these Cocktail of the Week recipes on Food Republic: