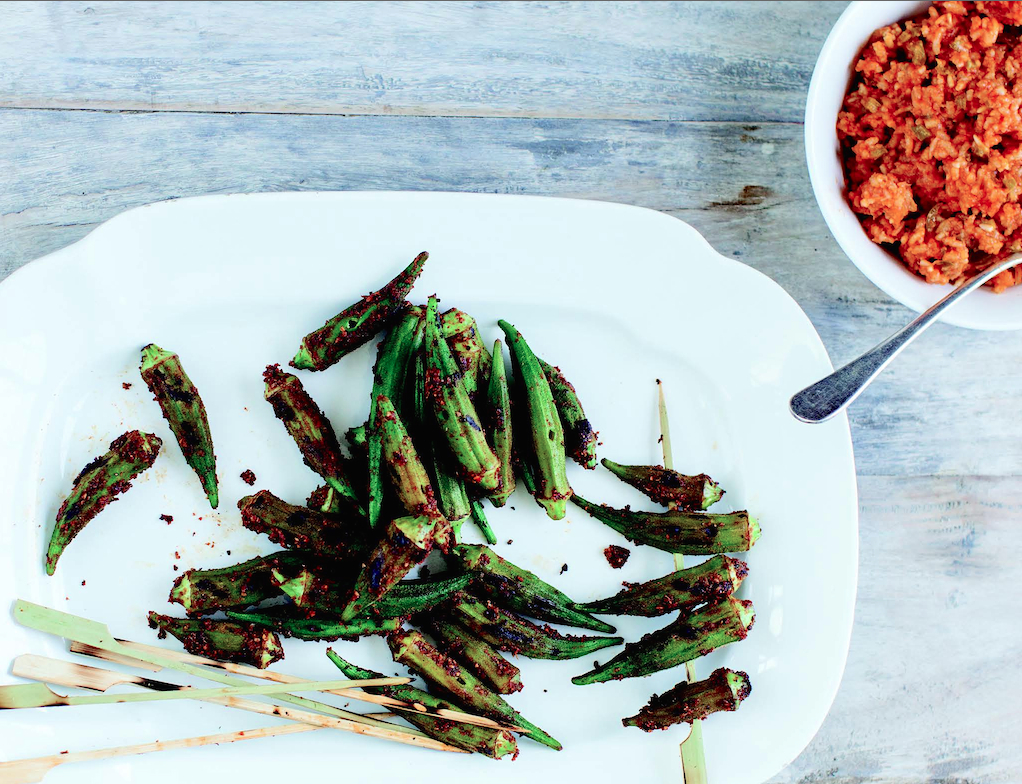 When the hot weather hits and the grills are smoking, there is most certainly a place for vegan cuisine. And, really, you don't have to be vegan to enjoy it. It's light, healthy and can be pretty easy to make. Pick up a copy of renowned vegan cook and author Bryant Terry's new book, Afro-Vegan, and pump up the flavor with African, Caribbean and Southern influence. Blackened okra with red rice is an instant winner for any occasion.
Ingredients
Rice
2

tablespoons

peanut oil

1/2

cup

yellow onion, finely diced

1/2

teaspoon

coarse sea salt

1

cup

white basmati rice, soaked in water overnight and drained well

1

large clove

garlic, minced

1

cup

green bell pepper, finely diced

5

tablespoons

tomato paste

1 3/4

cups

vegetable stock, homemade or store bought

2

teaspoons

tamari
Okra
1

teaspoon

coarse sea salt

1

pound

small to medium okra pods

2

tablespoons

peanut oil

4

- 6 tablespoons

blackened seasoning, homemade or store bought
Directions
For the rice:
Warm the oil in a medium saucepan over low heat.
Add the onion and salt and sauté until the onion is golden brown and quite soft, 10 to 15 minutes.
Add the rice and cook, stirring often, until the water has evaporated and the rice starts to smell nutty, about 2 minutes.
Add the garlic and bell pepper and sauté until fragrant, about 2 minutes.
Add the tomato paste and stir well to coat the rice and vegetables.
Stir in the stock and tamari, increase the heat to high and bring to a boil.
Decrease the heat to low, cover, and cook until the liquid is absorbed and the rice is tender, about 15 minutes.
Remove from the heat and let stand, covered, until the okra is ready.
For the okra:
To make the okra, prepare a medium‑high grill.
Put about 12 cups of water in a large pot and bring to a boil over high heat.
Add the salt, then add the okra and blanch for 1 minute. Drain well.
Transfer to a large bowl, drizzle with the oil and toss until evenly coated.
Sprinkle with the blackened seasoning and toss again until evenly coated.
Thread the okra pods onto skewers, putting about 6 pods on each skewer.
Grill until browned and slightly crisp, 3 to 4 minutes per side.
To serve, cut each pod into thirds and serve atop the rice.
Chef's Notes:
If serving the okra on its own, without the rice, use 6 tablespoons of the blackened seasoning; otherwise use 4 tablespoons of the seasoning.
If grilling isn't feasible, you can broil the okra, placing the pods about 3 inches from the heat and cooking until browned, bubbling and starting to crisp, 3 to 4 minutes per side.
Find more okra dishes on Food Republic: