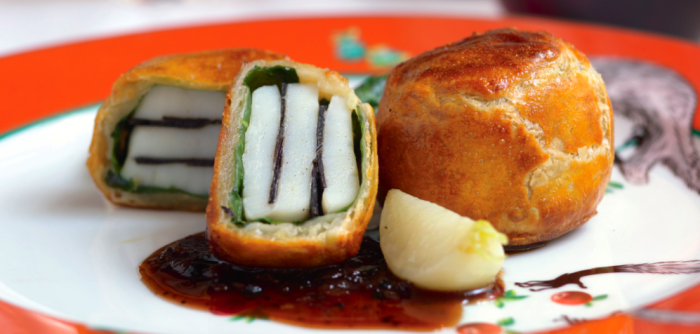 Ever wish you could eat at New York City's legendary Le Cirque every night? We sure do, but thankfully (for our wallets) we received a copy of A Table At Le Cirque and have been cooking our way through ever since. Next up, a signature truffled scallop dish by Daniel Boulud.
Critic Bryan Miller judged Daniel Boulud's "sea scallops fantasy in black tie" (its name on a 1987 menu), "unforgettable . . . an individual silver casserole dish of exquisite sliced sea scallops layered with black truffles, moistened with buttery vermouth and truffle juice." The recipe evolved into one of Boulud's iconic creations; ultimately, the chef wrapped each whole Maine sea scallop (layered with truffles) in spinach leaves and baked it in a crisp puff-pastry shell. It may require a lot of labor, but for home cooks it's entirely doable, and just as memorable.
Ingredients
all-purporse flour, for dusting

8

ounces

cold all-butter puff pastry dough

salt

12

large spinach or Swiss chard leaves, stems and thick ribs removed

8

large sea scallops (see Tips)

freshly ground pepper

1

fresh black truffle (about 1 ounce), sliced paper-thin, trimmings reserved (see Tips)

1

large egg, beaten with 1 teaspoon water

1

tablespoon

extra virgin olive oil

3

tablespoons

ruby port

2

tablespoons

demiglace

2

tablespoons

unsalted butter, diced
Directions
On a lightly floured work surface, roll out the puff pastry dough 1/16-inch thick.
Using a 2-inch biscuit cutter, stamp out 8 rounds slightly larger than the scallops.
Cut out eight 2-by 7-inch rectangles.
Transfer to a lightly floured baking sheet and refrigerate.
Bring a medium saucepan of water to a boil. Salt the water.
Fill a medium bowl with ice water.
Line a baking sheet with a kitchen towel.
Add the spinach to the boiling water and blanch for 30 seconds to 1 minute.
Drain and transfer to the ice water so it cools as quickly as possible, about 1 minute.
Drain, shaking off the water.
Carefully unfurl each leaf on the towel, without overlapping. Pat dry with paper towels.
Make 2 parallel horizontal cuts in each scallop, cutting almost but not all the way through.
Season each cut with salt and pepper and insert a truffle slice.
Set a stuffed scallop on a spinach leaf and wrap the scallop, using additional leaves if needed. Reserve the remaining truffle slices.
Remove the dough from the refrigerator.
Brush 1 narrow end of a pastry rectangle with the egg wash.
Set a wrapped scallop on its side at the opposite end and roll up the scallop.
Brush 1 pastry round with egg wash, set the scallop horizontally on top, and press the rectangle and round together to seal.
Pinch the dough on top to seal like a dumpling.
Trim the bottom pastry to neaten.
Repeat with the remaining scallops. Refrigerate for at least 15 minutes. Refrigerate the remaining egg wash.
Heat the oven to 450°F.
Line a baking sheet with a nonstick liner or parchment paper.
Brush the scallop rounds with the remaining egg wash and transfer to the prepared baking sheet.
Bake until puffed and golden brown, 7 to 10 minutes.
Tips:
Buy "dry" scallops. "Wet" scallops are soaked in a solution that plumps and whitens them and extends their shelf life. They never brown properly (they exude quantities of liquid) and don't have any flavor. Truffles are available at specialty food shops and from dartagnan.com, plantin.com, and urbani.com. Many chefs peel the firm outer rind of the truffle and mince it to use in truffle butter or truffle salt; the rest of the truffle is thinly sliced.
Try out these other scallop recipes on Food Republic: