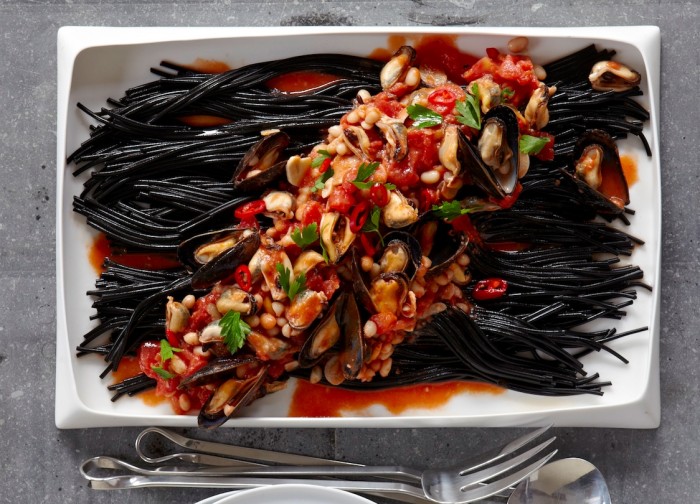 Italian food authority Francine Segan's cookbooks are must-reads for any fan of pasta, particularly her newest: Pasta Modern: New and Inspired Recipes From Italy. Abandon your red sauce craving and dive into the best, newest and certainly most inspired recipes from Italy we've seen in recent memory.
Squid ink pasta is hands-down one of the prettiest pastas ever! Glistening black, it's a glamorous canvas whose delicately briny flavor enhances any seafood. It is especially gorgeous against the lovely orange color of mussels and the white beans. In Italy, beans are often paired with seafood but feel free to leave them out, if you prefer.
In the photograph the pasta is laid out straight, a style of plating popularized by Gualtiero Marchese, Milan-born chef considered the founder of modern Italian cuisine. Of course, you can serve it the conventional way too. It's delicious no matter how it's put on the plate!
Ingredients
3

cloves

garlic, sliced

olive oil

4

pounds

mussels, scrubbed

1/2

cup

cooked small white beans like cicerchie or cannelini, optional

1/2

cup

dry white wine

1

(14-ounce) can

diced tomatoes

1

pound

squid ink pasta, preferably Felcetti brand

salt

1

small

fresh red chili pepper, thinly sliced to taste, or red pepper flakes

1/2

bunch

fresh parsley
Directions
Over medium heat, in a large frying pan, cook the garlic in 3 tablespoons of oil until aromatic.
Add the mussels, cooked beans if using, wine and tomatoes, and cover.
Cook until the shells open, about 5 minutes, then remove almost all the mussels from their shells, leaving a few in the shell for garnish.
Discard the shells and put the mussels back into the sauce.
To serve the pasta laid out straight, bring about 3 inches of salted water to a boil in two separate frying pans, each wide enough to hold the pasta horizontally.
Divide the pasta between the pans and cook until al dente, then, using two tongs or a wide spatula, remove the pasta from the pans and, keeping the spaghetti straight, lay it out onto a serving platter.
(Alternatively, you can cook the pasta in a tall pot of boiling water, and serve it in the conventional way.)
Top with sauce and reserved mussels in shells.
Season with salt and red chili peppers.
Serve topped with chopped parsley.
Find more pasta with seafood on Food Republic: