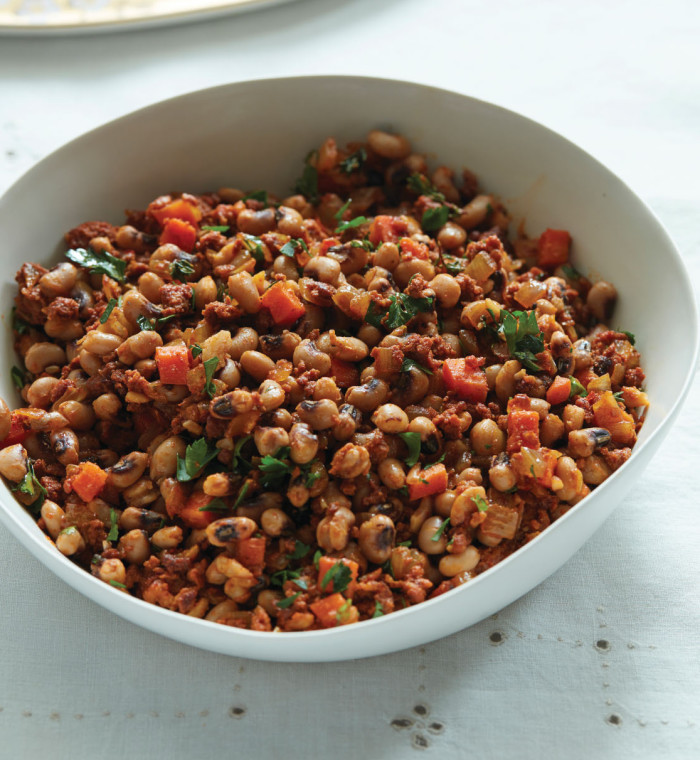 Four-time undefeated boxing world champion and wellness expert Laila Ali is also a killer cook, and wants everyone to know it! Grab a copy of her cookbook, Food For Life, and get your body on a fitness and nutrition plan fit for the queen of the ring. Black-eyed peas and sausage make for a hearty, protein-packed dish in no time at all. 
In the South, black-eyed peas are traditionally served on New Year's Day to bring good luck. Well, I feel fortunate any day that this high-protein side dish makes its way to my dinner table. It's a cinch to make — if you've got frozen or canned beans in the house, you're halfway there, and if you double it up, serve with a grain and a salad, you've got a full spread. Sometimes I'll finish the dish with a poached egg or two: when the dish is done, crack the eggs on top, cover the pan, and poach until the whites are just set.
Ingredients
2

teaspoons

extra-virgin olive oil

1

large fresh chorizo or other sausage (about 5 ounces)

1

small yellow onion, finely chopped

1

medium carrot, cut into 1/4-inch cubes

2

garlic cloves, minced

1/2

cup

Basic Bone Broth, Very Veggie Broth, or good-quality store-bought broth

1/2

teaspoon

sea salt, plus more to taste

1/4

teaspoon

freshly ground black pepper, plus more to taste

1 3/4

cups

thawed frozen black-eyed peas, or 1 (15-ounce) can, drained and rinsed

1

teaspoon

apple cider vinegar or red wine vinegar, plus more to taste

1 1/2

tablespoons

chopped fresh flat-leaf parsley

1

teaspoon

chopped fresh thyme
Directions
For the side
In a large skillet, heat the oil over medium-high heat. Remove the sausage from its casing and crumble it into the pan.

Add the onion, carrot, and garlic and cook, stirring often, until the sausage is cooked through and lightly browned and the vegetables are slightly softened. Add the broth and salt and pepper, bright to a simmer, then reduce the heat and cook for about 10 minutes, until the vegetables have softened and the broth has reduced slightly.

Add the peas and cook for 5 minutes to heat them through and bring the flavors together. Add the vinegar, parsley and thyme. Taste and add more vinegar, salt, and/or pepper if needed.