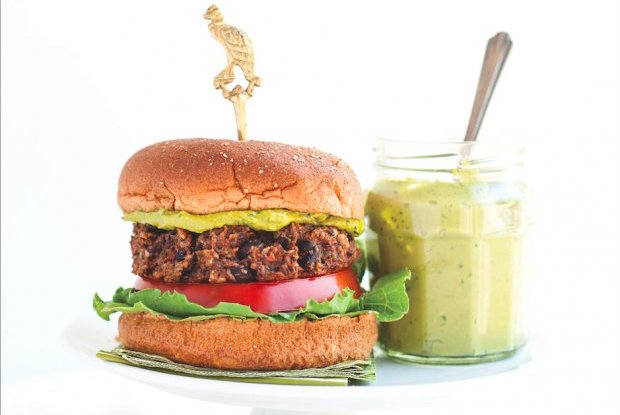 Food writer and blogger Annelies Zijderveld enjoys a strong cup of tea and a cookbook. No, really, her new cookbook, Steeped, is filled with tea-infused recipes. When was the last time you brewed a cuppa to enjoy with dinner? Break out the matcha green tea powder and enjoy an extra layer of complexity in this delicious recipe for vegetarian black bean burgers.
Toasted pecans are the key to these black bean beauties, along with the matcha in the piquant aioli.
Reprinted with permission from Steeped: Recipes Infused With Tea
Ingredients
Green tea basil aioli
4

cloves

garlic

10

leaves

fresh basil

3

teaspoons

matcha green tea powder

4

egg yolks

4

teaspoons

lemon juice, freshly squeezed

1

teaspoon

Dijon mustard

1/2

cup

olive oil

1

tablespoon

olive oil
Black bean burgers
1

small carrot, shredded (about 1/2 cup)

1/2

medium green bell pepper, seeded and finely chopped (about 1/2 cup)

1

medium red onion, finely chopped (about 1 cup)

1

large clove

garlic, minced

1

teaspoon

kosher salt

2

15-ounce cans

black beans

1/2

cup

toasted pecans

2

eggs

1/2

cup

dry bread crumbs

1/2

teaspoon

red-pepper flakes
Directions
For the green tea basil aioli:
Puree the garlic, basil, matcha, egg yolks, lemon juice, mustard, and salt and pepper to taste with a blender or food processor.
Add the oil in a slow stream until smooth.
For the black bean burgers:
Preheat the oven to 350°F. Line an 18-inch sheet pan with parchment paper.
Place a 2-quart fry pan over medium-low heat for 1 minute. Swirl in the oil to coat.
Sauté the carrot, bell pepper, onion, garlic, and salt for about 8 minutes, or until the onion is translucent. Turn off the heat.
Drain both cans of beans. Pour one can into a large bowl. Pour the other into a food processor with the pecans, bell pepper, onion, and garlic, and pulse to a coarse paste. Add to the whole beans.
Mix in the eggs, bread crumbs, and red-pepper flakes. Mound 1/2-cup patties onto the baking sheet, pressing them lightly to flatten. Leave a 1/2-inch space between patties. Bake 45 minutes until the patties are dry and a bit crisp.
Serve the burgers as you like. I put them on whole-wheat buns smeared with the green tea basil aioli and dressed with lettuce and tomato.
Try out some more creative burger recipes from Food Republic: