Black Bass With Oranges And Ancho Chile Oil Recipe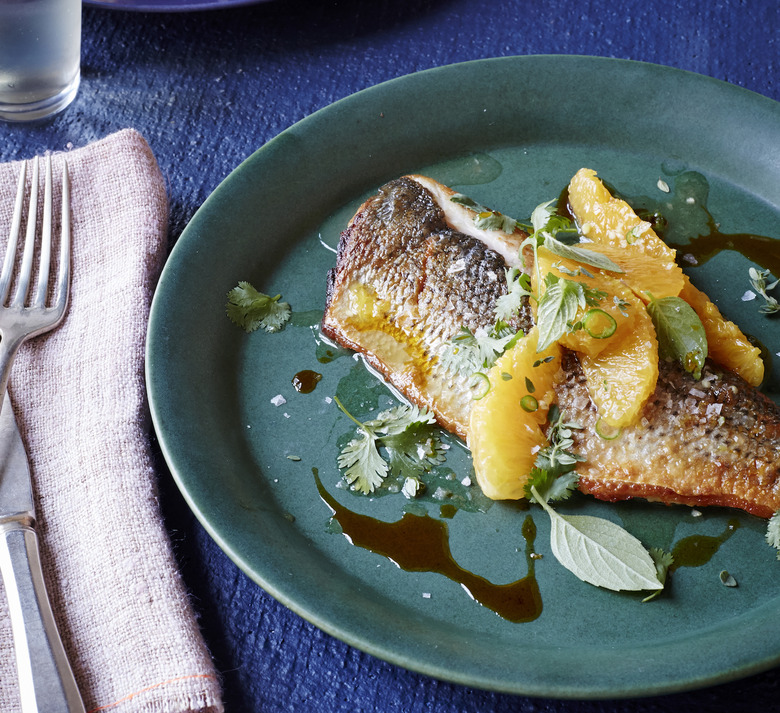 We may receive a commission on purchases made from links.
Radio/television personality Angie Martinez and chef/television personality Angelo Sosa might seem like an unlikely pair to team-up for a cookbook. But paging through their new book, Healthy Latin Eating, it's clear that this is no forced vanity project. Martinez, who is known as the "Voice of New York" from her time on Hot 97, is passionate about healthy cooking and these days can be found more often at the farmers market than the radio booth. Sosa, who appeared on Top Chef, has been known to tap into his unique Dominican-Italian heritage when preparing his fresh, flavorful dishes. Plus, they seem to be friends!
Fish and citrus are a classic combination, especially in Latin cuisine. Here I pair seared black bass fillets with bright and juicy orange segments, which are low in calories and a great source of vitamin C.
Black Bass With Oranges And Ancho Chile Oil Recipe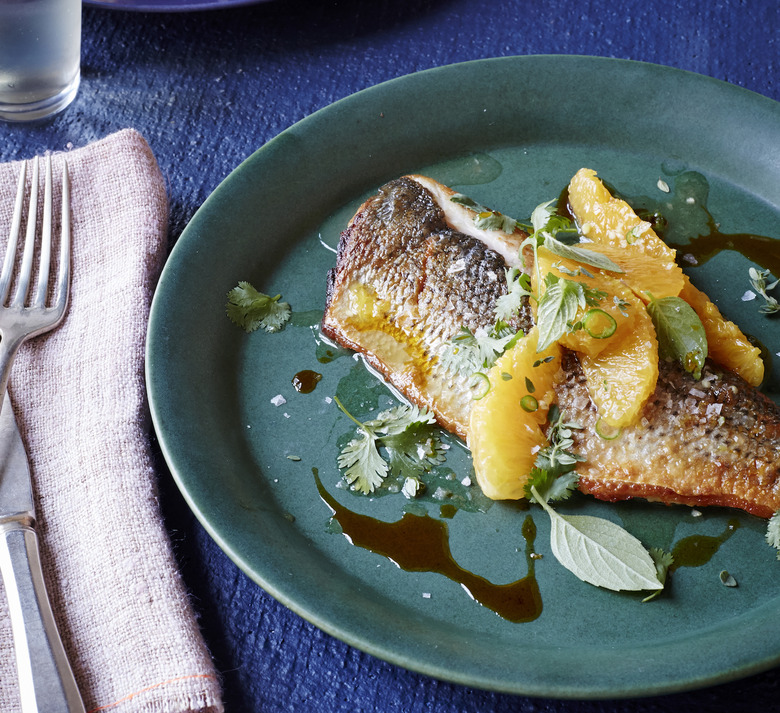 Ingredients
2 naval oranges
1/2 Thai chile pepper
2 tablespoons plus 1/4 cup olive oil
1 tablespoon fresh cilantro
1 tablespoon fresh basil
1 teaspoon fresh thyme
kosher salt
2 tablespoons ancho chile powder
1 pound skin-on black bass fillets
3 tablespoons Grapeseed oil
Directions
Place the orange segments in a small bowl with the chile, 2 tablespoons olive oil, the herbs, and 1/4 teaspoon salt.
Cover and chill in the refrigerator.
In a small saucepan, combine the remaining 1/4 cup olive oil with the chile powder and 1 teaspoon salt and stir.
Warm on low heat for 5 minutes.
Remove from the heat and set aside.
Season both sides of the bass with salt.
Heat the grapeseed oil in a medium nonstick sauté pan over high heat.
Carefully place the fish skin-side down.
Sear until golden brown, 4 to 5 minutes.
Gently turn the fish and cook for another 1 to 2 minutes.
Transfer the fish to individual plates and garnish with the orange salad.
Drizzle with the ancho chile oil and serve.
Crispianity: Crispy Fish With Romesco Recipe
Ben Pollinger's Dorade With Potato Scales Recipe
Red Lentil-Crusted Grouper With Saag Recipe