Bite-Size Bulgogi Burgers Recipe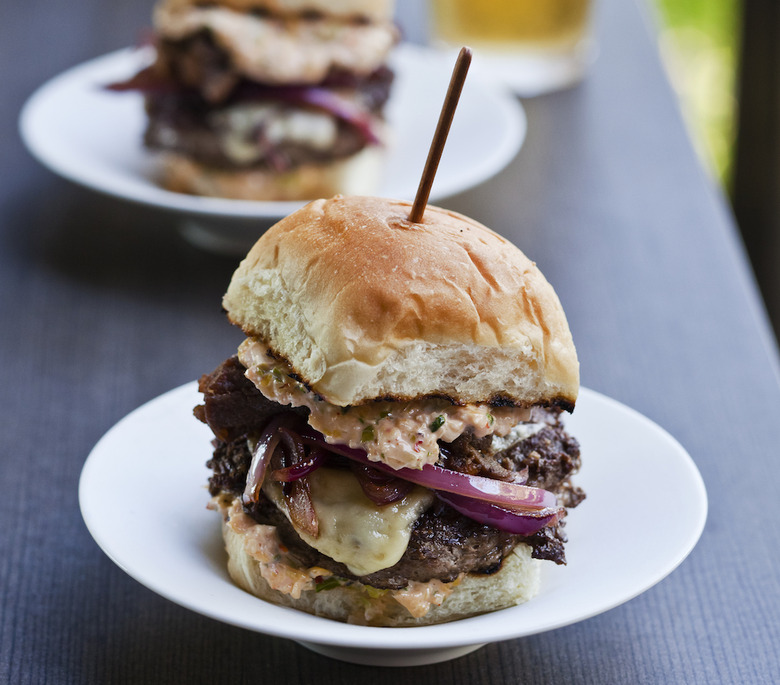 Photo: Quentin Bacon
Nowadays, I don't know anyone who does not love sliders — and everyone enjoys my special twist to the All-American classic. I guarantee that if you make these little guys, you will have an empty platter every time! Ask your butcher to slice the steak and grind rib-eye scraps to make the ground beef.
Bite-Size Bulgogi Burgers Recipe
Servings
8
appetizer, 4 entree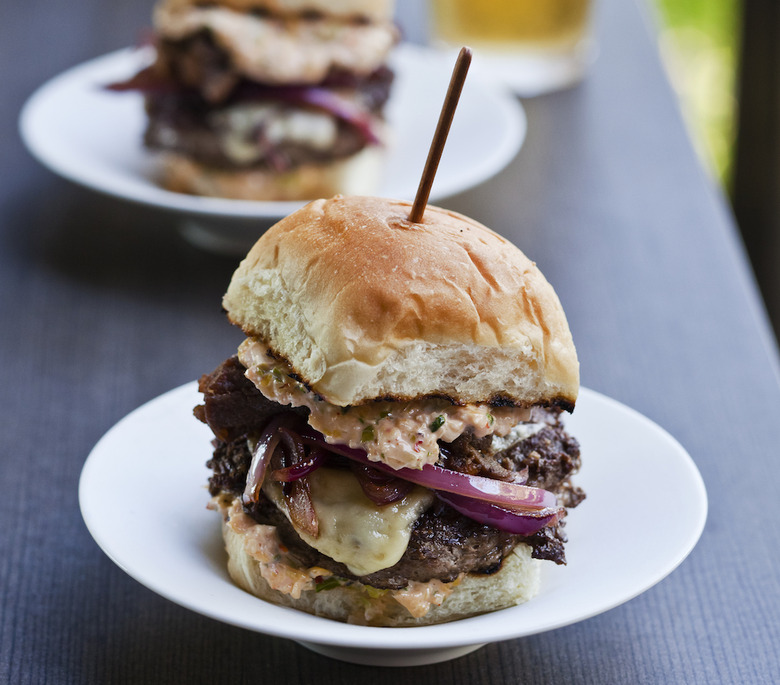 Ingredients
1/2 pound rib-eye steak
1/2 cup Ginger-Soy Marinade
1 cup Coke or other cola
1 pound ground rib-eye steak
vegetable oil or steak fat for seasoning grill
1 slices gouda
2 tablespoons butter
8 brioche slider buns or Hawaiian dinner rolls
8 bamboo toothpicks
1 tablespoon olive oil
1 red onion
2 tablespoons soy sauce
2 tablespoons balsamic vinegar
1/4 cup mayonnaise
2 tablespoons classic Napa kimchee
2 tablespoons seasoned rice wine vinegar
1 teaspoon minced garlic
2 tablespoons sesame oil
sea salt and white pepper to taste
1/2 yellow onion
1 tablespoon minced fresh ginger
1 tablespoon minced fresh garlic
1/2 cup soy sauce
1/4 cup brown sugar
1/4 cup mirin
1 teaspoon garlic powder
1 teaspoon onion powder
1/2 teaspoon black pepper
1/5 cup Coke or other cola
1/4 cup sesame oil
Directions
In a medium mixing bowl combine the rib-eye steak, Ginger-Soy Marinade, and cola. Cover with plastic wrap and refrigerate for at least 30 minutes.
Meanwhile, make the Balsamic-Soy Onions: Heat a medium skillet over medium-high heat. Add the olive oil and warm for 1 minute. 
Add the red onion and sauté for 2 to 3 minutes.
Add the soy sauce, balsamic vinegar, and salt and pepper and stir to combine.
Reduce the heat to mediumlow and let the onions caramelize until they attain a shiny sugary texture.
Remove from the heat and set aside.
Next, make the Kimche Aïoli: In a food processor, combine the mayonnaise, Napa Kimchee, vinegar, and garlic. Pulse and then drizzle in the sesame oil. Season with salt and pepper. Transfer to a bowl and set aside.
Form 8 hamburger patties with the ground rib-eye, about 1/2 inch larger than the diameter of the brioche buns. Season with salt and pepper on both sides and heat an outdoor grill or grill pan over medium-high heat.
Cook the marinated rib-eye steak on the grill or grill pan, turning constantly with a spatula, for 4 to 5 minutes. Transfer to a bowl and cover with aluminum foil to keep warm. Scrape any residue from the grill with a grill brush and season it again for the beef patties.
Cook the beef patties on one side for 2 minutes. Season with salt and pepper.
Flip over and place a piece of gouda on each patty. Cook for another 2 to 3 minutes, until the burgers reach desired doneness and the cheese has melted.
Remove from heat and let rest.
Using a pastry brush, butter both sides of the brioche buns with the melted butter. Toast on the grill for 1 to 2 minutes before assembling the burgers.
On the bottom bun, spread a dollop of Kimchee Aïoli, and then place a patty on top. Slather with some Balsamic-Soy Onions and add some rib-eye steak. Spread another dollop of the Kimchee Aïoli on the top half of the brioche bun and place the bun on top of the steak. Repeat to create 8 burgers in all. Spear each burger with a bamboo toothpick through the middle. Transfer to serving platter and serve immediately.