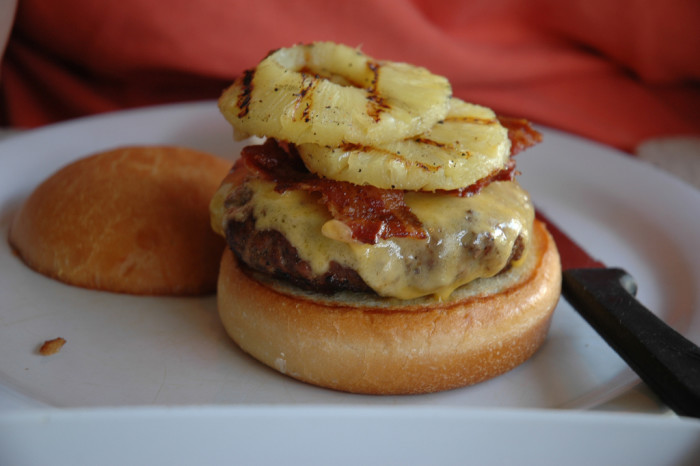 If memorable enough, food can function as a movie's main character. In Quentin Tarantino's Pulp Fiction there is the classic conversation devoted to the name given a Quarter Pounder with cheese in France, the Royale with Cheese. And who can forget Samuel L. Jackson's harassment of Brett and his friends and the corresponding line "Mmm…this IS a tasty burger." His salivating inflection alone makes one want to find a fast food joint stat. While watching this movie again it occurred to me that I wished I could have my very own Big Kahuna Burger. Now you can too. See our 10 classic movie scenes about food for this and other memorable movie moments.
Ingredients
Burger
1

pound

ground beef or bison

2

tablespoons

teriyaki sauce

1

tablespoon

grill seasoning

4

pineapple rings (canned or fresh)

4

pieces

bacon, cooked until crisp

4

slices

monterey jack cheese

Spicy cilantro mayo
Spicy Cilantro Mayo
1/3

cup

mayonnaise

1

teaspoon

Sriracha or chili sauce

1

tablespoon

cilantro, finely chopped
Directions
Using your hands, gently mix the ground meat with the teriyaki and grill seasoning in a medium bowl. Be careful not to overwork the mixture as that can toughen the meat. Divide into four quarter-pound patties.
Grill pineapple slices for approx 1 minute on each side on your grill of choice.
Cook burgers until desired doneness on a grill of choice: gas, charcoal or even one from George Foreman's empire all work well. Place a piece of bacon on each and then top with a piece of jack cheese to hinge the bacon in place. Top with a grilled pineapple slice and serve on Kaiser rolls spread with Spicy Cilantro Mayo (recipe follows.)
Spicy Cilantro Mayo
Mix all together in a small bowl and use as condiment on Big Kahuna Burgers.