Big Gay Ice Cream's Blueberry Balsamic Sauce
We may receive a commission on purchases made from links.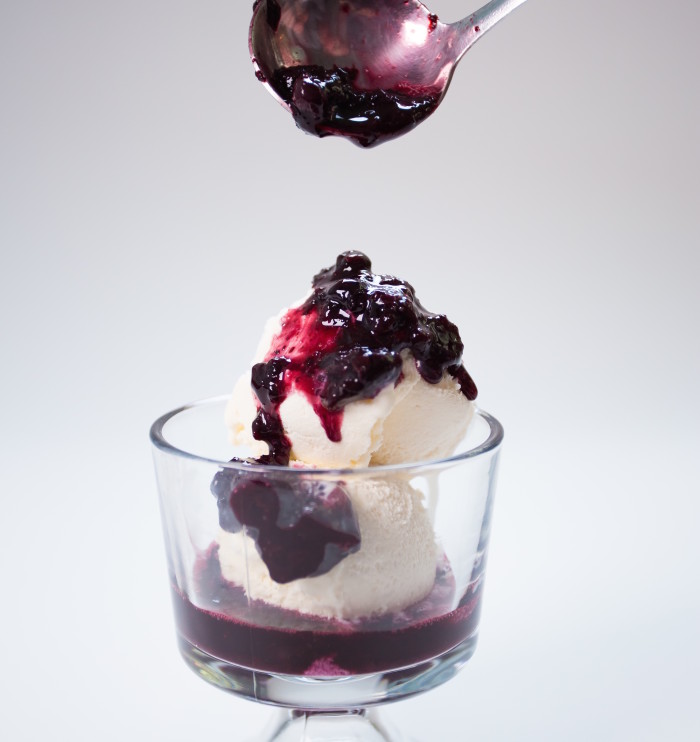 Of all the ice cream options in New York City, Big Gay Ice Cream is undoubtedly your best bet. What, do you not like sparkly unicorns on your walls and blueberry balsamic sauce on your cone? Dive into founders and co-owners Bryan and Douglas's sweet world with their first cookbook full of recipes, techniques and stories from the ice cream shop that has charmed the pants off ice cream lovers worldwide.
Big Gay Ice Cream's Blueberry Balsamic Sauce
Ingredients
4 cups fresh or frozen blueberries
1/2 cup sugar
3 tablespoons balsamic vinegar
1/2 teaspoon grated lemon zest (use a Microplane)
Juice from 1/4 lemon (approximately 1 3/4 teaspoons)
Directions
Combine the blueberries and sugar in a medium heavy-bottomed saucepan and bring to a simmer over medium heat.
Do not boil. Smash the berries with a fork as they begin to simmer and pop. Continue cooking for another 5 minutes, or until the sugar is completely dissolved. Add the balsamic vinegar and simmer for another 7 to 10 minutes, stirring often. Remove from the heat and let the sauce cool for 10 minutes.
Add the lemon zest and lemon juice and stir to incorporate. Transfer to a covered container and refrigerate for 45 minutes, or until cold.
Stir before spooning over your choice of sorbet or ice cream. Store refrigerated in an airtight container for up to 1 week; stir before serving.